We're big fans of this company for their 100% hand-woven rugs made by master artisans in India. You may have seen them in Jaime's dining room or read about their story here. We're happy to say that Australian rug company Armadillo & Co have now landed closer to home in Los Angeles, making their first ever retail store and showroom debut in the USA.
Excited was an understatement when we first heard that Armadillo & Co was coming to California. The company was founded in 2009 by Jodie Fried and Sally Pottharst when the founders couldn't find simple, beautiful and quality rugs for their own homes. So, in true designer fashion, they decided to make the products they envisioned instead. We stopped by their LA showroom one afternoon and the space is exactly like their rugs – simple, beautiful, elegant. Designed by Standard Architecture, the space has that easy breezy, coastal Australian aesthetic that makes the space inviting to stop in and browse for rugs and tabletop items. We chatted with co-founder Jodie about why LA was the right choice for their first ever retail store in the US and the lessons the brand has learned since opening.
Why did you pick this city?
Beverly Hills, Los Angeles was the perfect location for our flagship retail store. The city is brimming with creativity and plays host to an edgy art scene, while the location was right in the center of all the interior design resources. Australia and Southern California also have a lot in common – both of our aesthetics are dictated by the climate, relaxed lifestyle and love for indoor/outdoor living – so it was a natural evolution for the brand. We were lucky enough to find our incredible space, which is so clean and architectural. It has a gallery-esque feel that is very creative, open and inviting.
Where did you get the name for the store brand?
Armadillo & Co alludes to the visual and tactile nature of our product, likened to the layered and textured shell of an armadillo. Our rugs invite further exploration, thanks to their softness underfoot derived from using natural materials, and the intricate patterns and rich textures from handmade knots and weaves.
Has it changed much since it opened? How?
We had a soft opening in February and have loved interacting with our customers on a more personal level. Given this is our first opportunity to provide a retail brand experience we have taken our time to settle into the space and work collaboratively with our customers. The 18-foot high ceilings and white walls have really been crying out for something amazing to be installed – it has taken some time but we now know exactly what is going to happen – stay tuned!
What's one of the challenges you have with the business?
Time zones! We have an incredible team who are spread all over the globe – India, Australia, Paris, New York and Los Angeles – so it can mean odd or long working hours and a lot of time spent in online meetings or in the air traveling.
What other stores have you worked in before opening this one?
This is our first retail store so we are excited about given our customers a full retail branded hug!
What's your favorite item in the store right now?
It's hard to go past the Agra rug from our Heirloom Collection, which is made from hand dyed and spun wool worked in a single color. It has a beautiful energy that balances visual restraint with sumptuous luxury. I love the perfectly imperfect variations in shading and hues and the way the plush, deep-cut pile reflects the light from all angles.
What is this season's theme?
Armadillo & Co is all about the human touch so I was excited to see this season's trend of traditional handcrafts. Showcasing handmade processes, natural materials and folkloric patterns is the perfect way to bring a space to life!
Are you carrying any new products and/or undiscovered gems you're particularly excited about?
Our 100% wool Leila rug is one of our quiet treasures. It has a petite diamond grid inspired by the exquisite simplicity of aged Persian rugs, adding dimension and sophistication to both contemporary and more traditional interiors.
What's been a consistent best seller?
The Sherpa Weave rug is one of our best sellers. It is handcrafted from a luxurious wool blend in a textured pattern to provide softness underfoot but has wonderful durability which makes it perfect for high traffic areas like the family living room.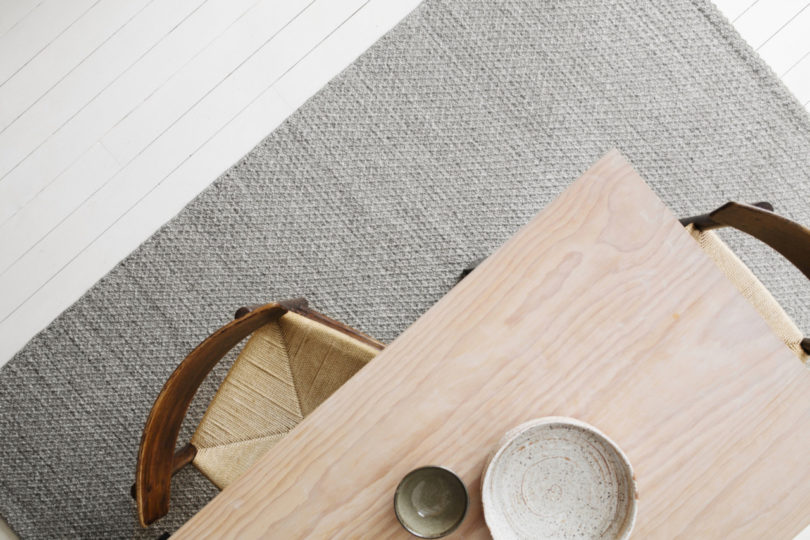 Any special events/exhibits/pop ups/collaborations coming up?
We're looking forward to showcasing at the International Contemporary Furniture Fair (ICFF) in New York for the first time later this year.
Do you have anything from the store in your own home?
Much to my husband's frustration we have too many Armadillo & Co products at home! (Sally and I test all the rugs in our homes before we take them to market which means a lot of layering and rugs often in places they perhaps shouldn't be!) In our home, each space has been defined with tonal, textural rugs that are earthy and grounding but perfect for our three young children to run around on. My favorites are the diamond-patterned Atlas rug in our living room and the Agra rug in Duchess pink in the master bedroom.
What's next for you and your store?
Next month we will officially celebrate the store opening with a launch party.
What's one lesson you've learned since opening your store?
My business mentor once told me to surround yourself with people who are better than you, and time and time again this has proven so true and valuable! We are only as good as the people around us.
If you could give one piece of advice to someone who wants to follow a similar path to yours, what would it be?
You have to truly love and believe in what you do. Stay authentic and passionate, and keep your mission simple!
To visit the Armadillo & Co showroom, stop by 8715 Wilshire Blvd, Beverly Hills, CA 90211.
Photos of the showroom by Joe Schmelzer, photos of Jodie's home by Chris Warnes.