The latest collection from the Paris-based design team of Colonel, made up of Isabelle Gilles and Yann Poncelet, features two lamps, a table and a bench, and updated versions of two classics. The summery collection was inspired by the aesthetics of outdoor furnishings complete with playful colors and simple forms.
The Dowood lamp is made up of a painted metal base with a sycamore shade that's painted with bright geometric forms. Available in two sizes with three color stories for each size.
Pondy consists of a minimal table and bench that appear to be just raw wood but each comes with a colorful metal connector bar that joins the legs together.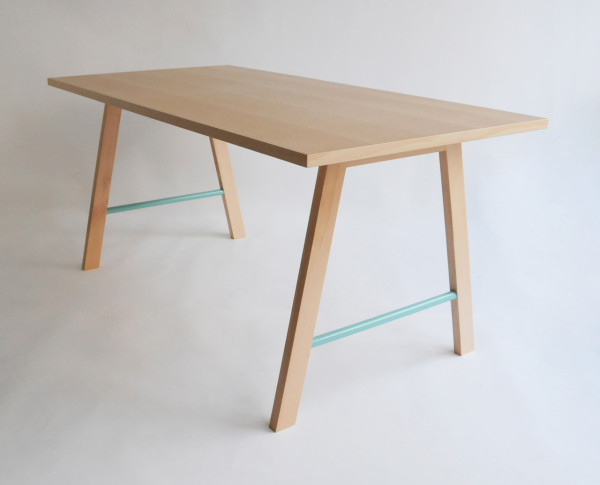 The Diablo lamps are made up of gradient fabrics covering the painted metal structure like a dress. The top and bottom are cinched together like you would the hood of a jacket. Available as a table or tripod lamp and in three color sets: white/mint, blue/pink, or yellow/pink.
Faces is the first of two updated pieces. The new version changes its look with new KVADRAT fabrics in three different colors. The lamp also changes it's appearance with its tilt shade that's similar to an umbrella. Available in three colors: coral, grey, and blue.
Caracas is the other updated piece and the modern chair was inspired by a 60's camping chair. The new version features a diagonal graphic on the fabric. Available in yellow, pink, or blue.