Shown at Rossana Orlandi in Milan, Confession is a project from Scottish/Swedish designer Nick Ross, a current graduate student at Konstfack in Stockholm. Confessions aims to make public places more intimate by creating micro-environments in which people can be discrete and private.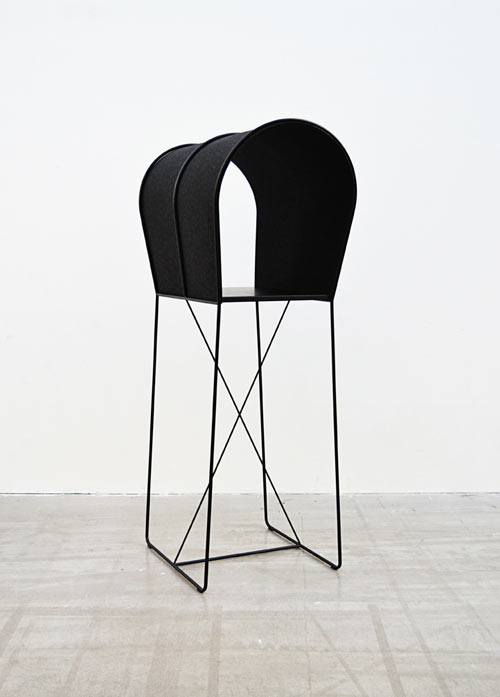 Working with Blå Station to realize the project, Nick created a steel and oak structure that is about bar height covered with sound-absorbing pressed polyester felt.
From the designer:
Ever since architects started taking down interior walls to create airy open spaces, a new set of problems have arisen. Whilst these areas are more communal, there is an issue with finding discrete, private areas which take you away from the noise of open spaces. Confession is a new furniture archetype which seeks to resolve these problems of privacy and seclusion. It enables the creation of a space for a quick meeting, to hear a personal story, a quiet place to read the paper with a coffee or even somewhere to indulge in office gossip. It also reminds us of what we lose in the era of shared and open communication. Instead of erecting walls to create personal and confidential spaces, which can prove expensive, these communal areas can be furnished in a new way at a fraction of the cost and hassle.

Design From Around The Web