A small house built in the last century on an old village road in the Dutch town of Duiven was recently passed down to the third generation of the family who owns it. Once the new generation took ownership, they decided to renovate the original house and build a contemporary volume on the back. Working with Studio Prototype, the family's wishes were answered with a new addition that works with the existing home in a project called House W.
The two volumes are slightly skewed helping to add another element of spatial play on the exterior.
The facade is clad in diagonal strips of western red cedar timber laid out in opposite directions. You'll also notice the diagonal patterns on the window screens that help with privacy.
From the street, the new volume looks to be a closed off block, but around the back, you'll see that it's open to the outdoor space.
A large window made up of two sliding doors opens up to the L-shaped veranda out back.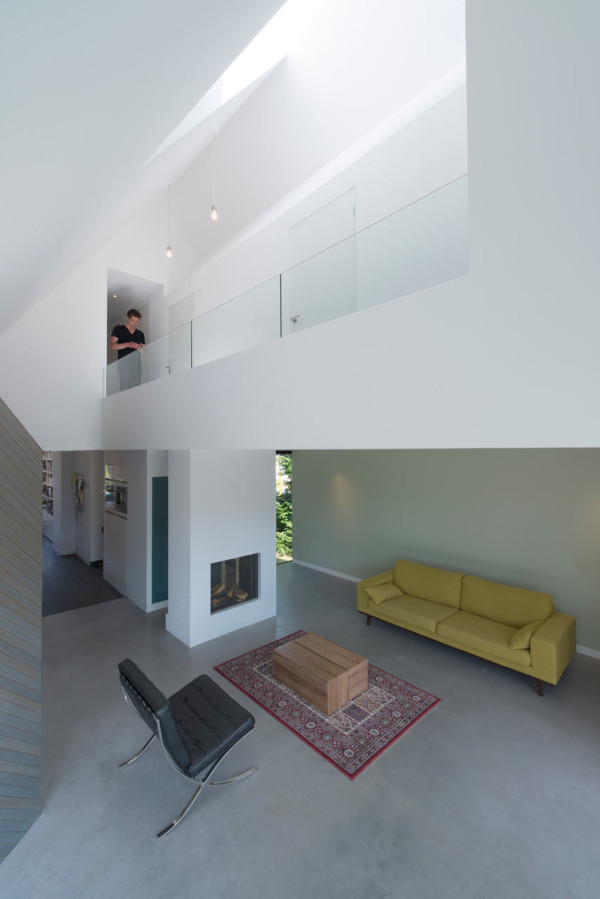 A double height ceiling connects the two floors, making the spaces feel bright and spacious.
A skylight helps bring in maximum daylight.
They brought the idea of the diagonal wood into the interior surrounding the built-in TV.
The connection between the two volumes is pretty seamless.
Photos by Jeroen Musch.