While the 1960s saw the design of some fantastic modern structures clad in vertical wood slats, things quickly degenerated by the '70s, when architect Mike Brady reigned supreme (on TV at least), and dark faux wood paneling in family living rooms was the height of cool. Moving into the '80s, we were banished to the rec room of "Wayne's World," where wood paneling took even more of a dive. Proving everything old is new again, wood clad walls are enjoying a renaissance, but thankfully in a more contemporary manner. Pale, smooth woods line Scandinavian style and Zen-like minimalist interiors, and reclaimed timber have become the fashionable material of feature walls. Here we look at a dozen interiors that incorporate wood walls with perfection.
Above: Horizontal slats create a smooth backdrop for floating bookshelves in Balcones House, the Austin residence of Elizabeth Alford and Michael Young of Pollen Architecture & Design.
Another shot of Balcones House, this is Alford and Young's dining room. Light wood, laid horizontally is used throughout, even on the floor and dining table.
Husband-and-wife team Erla Dögg Ingjaldsdóttir and Tryggvi Thorsteinsson of Santa Monica-based firm, Minarc, are driven by the goal of minimizing waste. Their Mnm.MOD prefabs offer a library of sustainable options, which are then shipped to a factory for assembly just like automobiles. This one is the Horowitz Residence. Note how the feature wall extends down and across the floor.
This Zen bathroom with a sauna-inspired, timber-clad wall on the water in Sydney, Australia, was done by interior designers Juliette Arent and Sarah-Jane Pyke of Arent & Pyke. The matching bench, floating box shelf, and mount for the tub filler pull the room together.
Sheets of richly grained wood in different sizes make for a fireplace feature wall that almost rivals the view out the floor-to-ceiling glass windows. The earthy material also provides a contrast against the stone surround and polished concrete floor.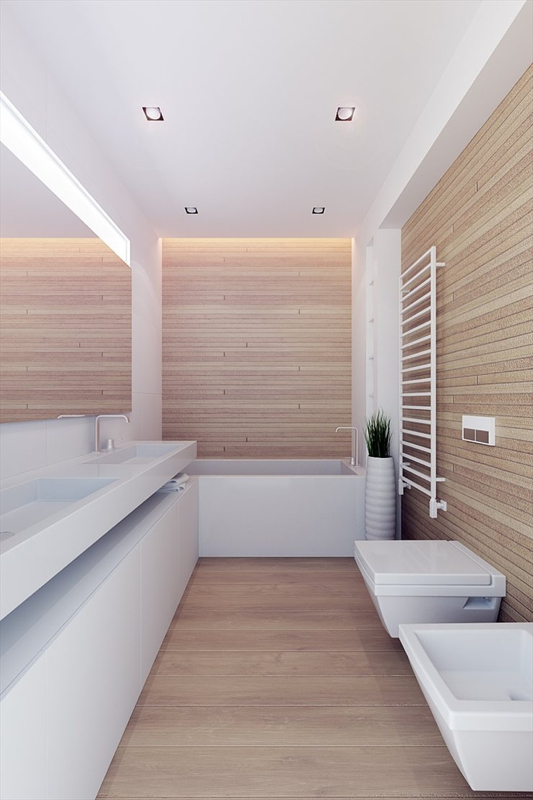 Dimitrii Petrov of Line Architects, based in Chisinau, Moldova, designed this home, dubbed 100 M, which features a soothing symphony of pale white wood finishes and minimalist white fixtures and furnishings.
The dining room of this Perth residence where designer and Empire shop owner Renee Coleman lives, features original, vertical timber paneling. The oversize neutral painting, 'Two Worlds' by Susanna Castleden, stands out nicely, but doesn't distract.
New York-based interior designer Daniel Romualdez kept the palette neutral for beauty mogul Aerin Lauder's ski house in Aspen. Her sons' room is painted soft white and the wall behind the bed lined with wire-brushed oak for character.
Oslo-based architecture firm Filter designed this summer house on an island in an archipelago on the South coast of Norway, following the footprint of the original 1940s cottage. While the whole interior is clad in timber, rather than resembling the way too rustic knotty pine cabins of New England, it's the stuff of Scandinavian dreams.
Architect William Massie, who is also head of the architecture department and an artist-in-residence at Cranbrook Academy of Art in Bloomfield Hills, Michigan, designed this country house in New York's Hudson River Valley for vintage furniture dealer Greg Wooten. The one-story home has an open plan, concrete slab floors, and wood feature walls.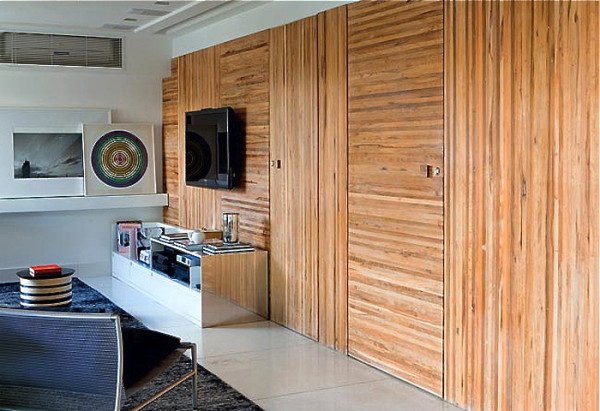 Architect Flavia Gerab of Sao Paulo cleverly used panels of wood slats turned this way and that way to disguise several doorways. The treatment warms up the room, with its white walls and large-format granite floor tiles.
Areas of wood paneling move through Caulfield House, designed by Australian firm Bower Architecture. Here, an elevated mass is swathed in wood. In the dining area, it is the ceiling that's done in it, while in the living room the fireplace wall is fully covered in wood. Outside, for the deck, the wood is underfoot, then moves up again on different sections of the zinc-clad exterior.
For more interiors sporting this look, check out Montage: 24 Rooms with Wood-Clad Feature Walls on StyleCarrot.