Sculptural, malleable, and now equipped with dim-to-warm LED technology, the contortionist Palindrome was built to adapt to its environment. Each installation is unique, thanks to the modular composition of its tubular steel arms. They rotate to the custom configuration dictated by the size and shape of a space, and the light itself adjusts to mirror corresponding moods. At its brightest setting, the chandelier emits the white tones ideal for commercial projects, but once dimmed, Palindrome's light shifts to the warmer, amber tones best suited for intimate hospitality and residential spaces.
Initial concept sketch for interior to demonstrate Palindrome showing the chandelier in a residential/hospitality dining context.
Prototypes made during early development to prove articulated frame. Here the model frame is black plastic tubing, and the heads are blue foam.
Miniature 3D print of pipe and head configuration. 3D Printing has become an integral part of our development to quickly iterate on our creative process.
We test physical mockups with LEDs to ensure the quality of light will generate the sense of mood, atmosphere and tone that we wish to create.
Palindrome pipes are selected based on the fixture configuration (2, 4, 6, or 8 pipes). The pipes are then prepared for powder coating or plating using a process our studio calls "pressing". This involves pressure fitting bushings into the ends of each pipe.
Once the pipes return from finishing, the assembly of the Palindrome begins. The pipes are first wired and then connected with our custom T-Joints, the component that the glass heads (light source) will later connect to.
LED boards are wired to LED mounts and the glass is attached to create the glass heads. The glass heads are shipped separately to prevent damage in shipping. This also allows the metal frames to ship flat.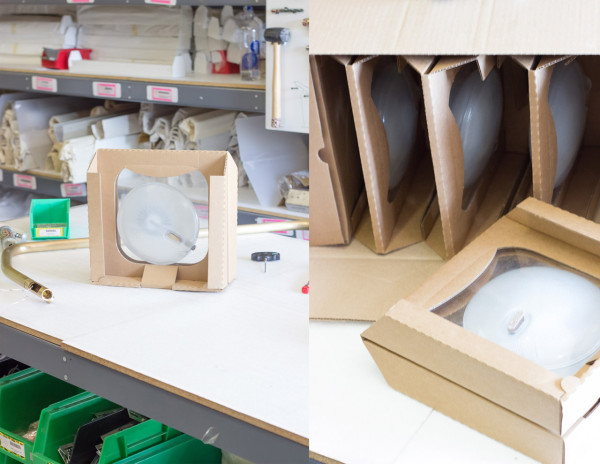 Packaging for glass heads involves use of a stretch membrane and cardboard frame – the glass is suspended within the packaging and the packages are certified against specific safe drop heights that might occur in expedited shipping.