Converse Chucks stand as the antithesis of greater sneaker culture. Where sneaker fiends often spend an inordinate amount of time, care, and money keeping kicks immaculate, Chucks are purposely worn down for months or even years to attain a certain well-worn aesthetic. Like denim, the tears, rips, and shreds marring the surface are celebrated – desirable tattoos of age. It makes sense then the latest Converse x Dr. Woo collaboration accentuates this aspect of Chucks culture into a fashionable feature with the 'Wear to Reveal' collection.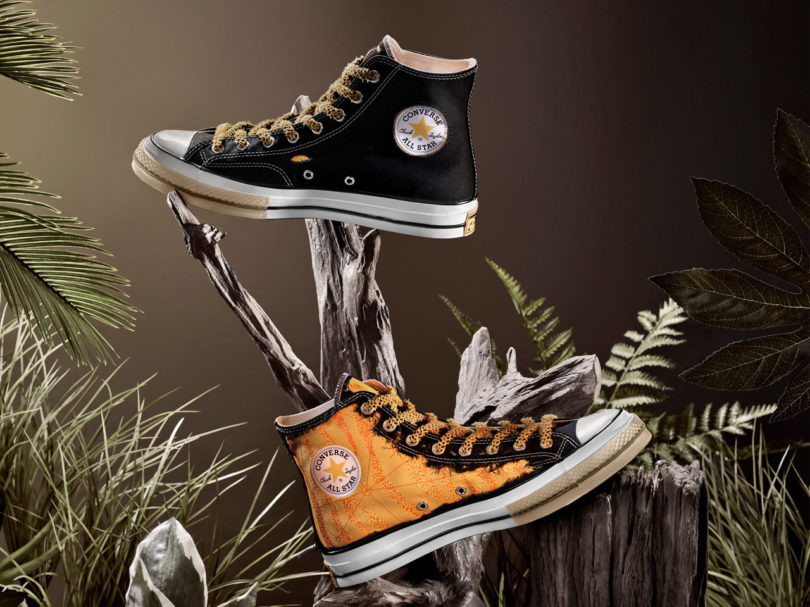 The artist's previous collaborative collection used embroidery to represent Brian Woo's notable talents as a skin artist to the stars. The sequel takes a more dimensional route, purposely tearing apart small sections of the Converse Chuck 70 black or white canvas silhouette, revealing another colorful layer of pattern awaiting underneath to be exposed with time (or ripped, if patience isn't your thing). In time with wear and age, the shoes transform with the dramatic transformation of a caterpillar into a butterfly, shedding its monochromatic top layer for something all more colorful underneath – a sort of two-shoes-in-one!
From Dr. Woo (aka Brian Woo):
The shoe is a culmination of all things that I love – vintage, the wearing in of your own clothes, how it keeps developing, transitioning, and how the Chuck, specifically, can stay in your life so long.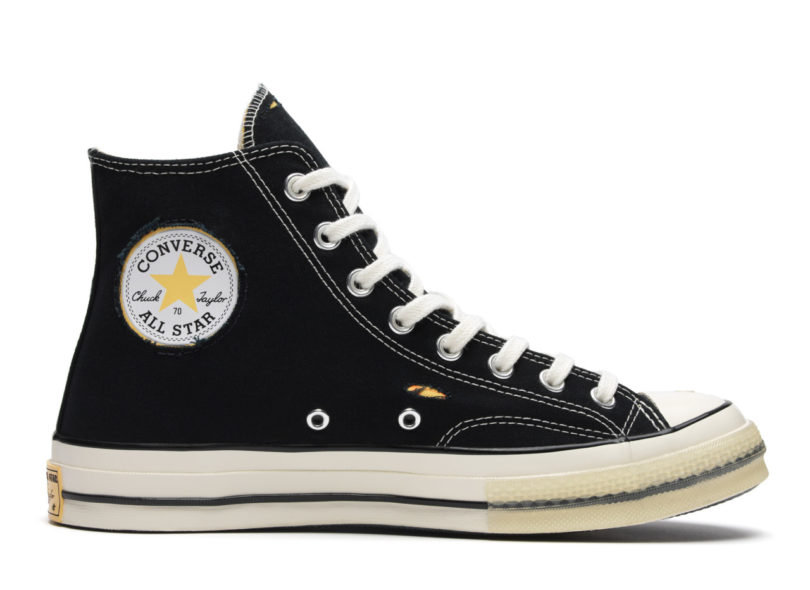 The two styles are joined by a pair of youth styles in Horizon Blue and Mellon colorways, packaged with three sets of laces and a transparent outsole featuring Woo's signature eye motif.
The footwear is joined with a pair of Coaches Jackets embellished with embroidered artwork and heat transferred artwork prints designed by Dr. Woo and outfitted with a layer of GORE-TEX fabric to keep wind and water at bay.
The Converse x Dr. Woo collection includes black and white Chuck 70 silhouettes which reveal Sunset Gold and Green Absinthe colorways respectively. Expect to see the entire collection available online at Converse.com and at select retailers starting on September 6th, with prices for Converse x Dr. Woo adult kicks at $110, kids styles for $65, and Coaches Jacket for $350.

Design From Around The Web