The following post is brought to you by Corian. Our partners are hand picked by the Design Milk team because they represent the best in design.
From the Paleolithic paintings on the walls of the Lascaux caves to the murals of Minoan and the frescos of Pompeii, humans have been looking for ways to bring a little color into our lives for tens of thousands of years. Forty thousand years ago, the color pool was a bit smaller: a palette of five colors: red, yellow, brown, black and white. Luckily, our modern decorative world is a lot more colorful. Of course, with great choices come—(sigh!) great decisions. Thankfully, when it comes to making a countertop material decision, there is a color solution. Corian® Zodiaq® quartz surface has launched sixteen new colors and patterns for the high performance (read: almost indestructible) surface material. Sixteen new choices might sounds like a lot for the decision fatigued, but the collection is so well-curated and organized that it's easy to identify which color will work best for different applications from home, office, spa or restaurant or hotel. Drum roll, please! The Corian® Design Horizons Trend guide is pretty much the answer to your color questions.
When it came time to design the business center (dubbed the Think Tank) at the Aloft Hotel in Raleigh, North Carolina, the team wanted surfaces that were modern and classic but could withstand high traffic. Corian® Zodiac® surface in the on-trend marble pattern was the perfect choice for the large central conference table. Even though marble is a fairly subtle pattern, in this case, it really pops in this mostly gray space and gives the entire room a luxe look. Watch:
The trend guide breaks your color choice into four color collections: White, Blue, Green & Brown and Gray. There's nothing worse that worrying that your design decision will be out-of-date so each of the colors were developed following extensive global market and trend research. Then each surface was created using a patented DeepColor™ technology ensuring that the both the color and the trend are equally long lasting. 
The solid durable surface is perfectly suited to high-traffic, multi-use areas—whether that's an office space or a restaurant (Corian® and Zodiac® are also NSF/ANSI Standard 51 Certified for food contact.) So once you can check functionality questions off the list, you can focus on the fun stuff: the aesthetics. The White Collection was created to meet the demand for a clean, uniform environment, and seriously, white just works. (The marble patterned option shown in the trend guide is pretty killer.) The Concrete Carrara (above) is a marriage of two our favorite trends. There is no end to our marble love. But when it comes to marble in a high traffic space, one glass of red wine can easily turn your marble rom-com into a Shakespearean tragedy, which makes the Corian® and Zodiac® options a godsend for any commercial space where you want the look without the high maintenance.
The colors in the Blue Collection are not of the baby variety. These are high-end ultra luxe, deep inky blues. The definition of calming, these perfectly on-trend saturated blues can make any space feel stabilizing (and larger! Go Blue!). The other collection on the calming spectrum is the Green and Brown palette, which all about earthy color choices.  The colors are organically patterned, making them feel natural and authentic. (This is sort of palette and pattern that's med spa perfection).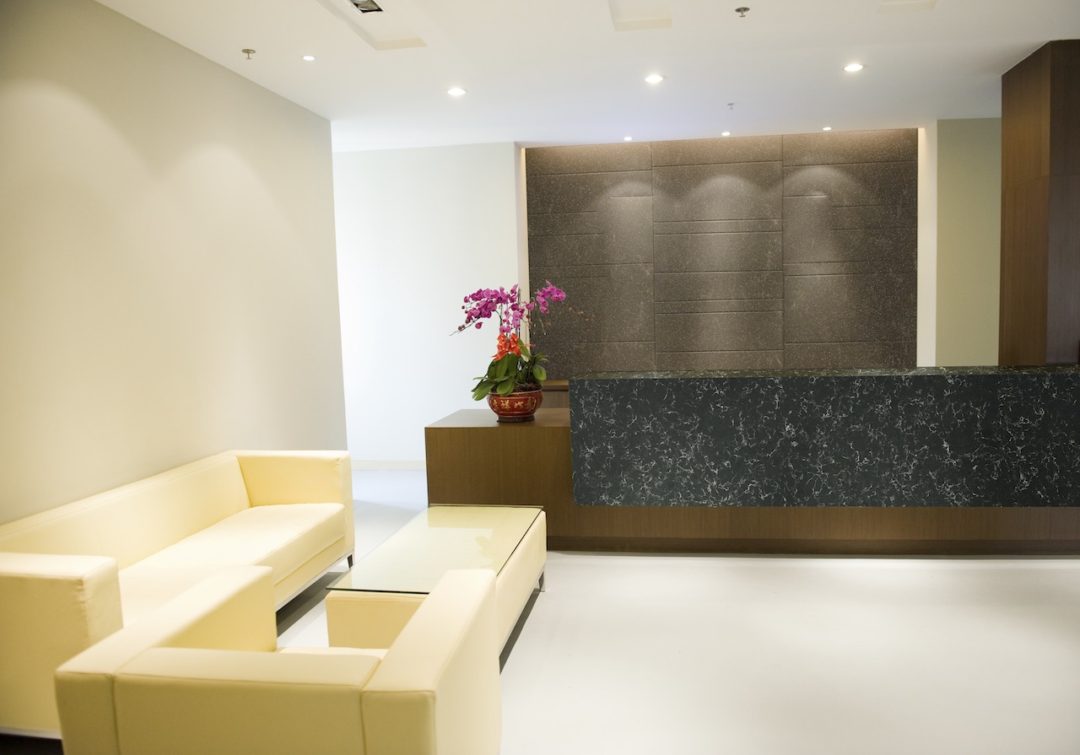 The Gray Collection, inspired by a classic flannel men's suit, is about balance and subtly (with a dash of sophistication—Mad Men style.) Gray can be a tough color to get right. (I'm betting that anyone who's ever tried to pick the perfect shade has made a Fifty Shades of Gray joke) But when it works, it's the perfect color to soften louder accent colors or allow wood to pop. There are some perfectly delicious deep charcoal options in the mix.
When it come to surface applications, don't limit yourself to traditional countertops. Corian® and Zodiac® surfaces can work for office desks, conference tables, reception desks—anywhere where durability is a requirement. (And where isn't durability a huge plus?) So now we're back full circle that color question. I bet you can find your answer here.

Design From Around The Web