This cottage house was created as a retreat for the architect, Gisle Løkken, of 70°N Architects. The plain rectangular home is simple enough both inside and out, while blending nicely into its surroundings. I don't think they could have chosen a more lovely location, either! Oh, and that view? To die for…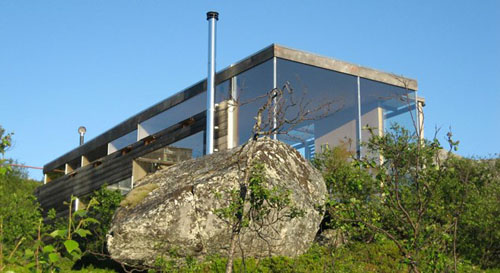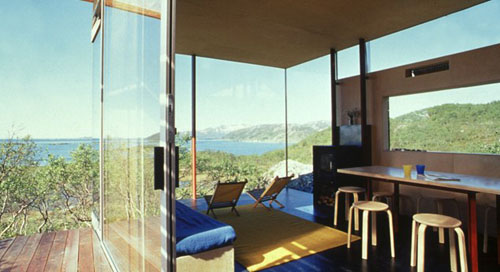 Only 50 kilometres from Tromsø, Skarsfjord hides a haven of small islands and bars facing out to sea. The area is a paradise for birds and reindeer. There are cod in the fjord, and through the inland hills runs a row of small trout lakes.

In this landscape, the cottage faces west towards a panorama of evening sun and wide sea. Taking in all the surrounding natural elements it is a place very different from home.

Large panes of glass allow a 180° view of the landscape to the west. Half of the sheltered south-facing living room wall can be slid open to the smaller scale of heather, trees and rocks. Even from the sauna, you can see the starry sky and the northern lights.

About half of the total 40 square metres are living room and kitchen. There are no distracting details, all glass framing is let in to the construction. The interior is varnished beech veneer with a black linoleum floor, and the exterior is larch panelling and birch plywood.

Design From Around The Web