Notre Monde landed on our radar this past year during the High Point Furniture Market with their hand-painted trays, accent tables, and wall art finished with unique abstract designs. The brand was established in 1997 by Dawn Sweitzer who takes inspiration from her travels, nature, and everyday life and brings it to functional, one-of-a-kind objects. Each piece is made using traditional printing and hand-finishing techniques which result in an object that's all your own. In this month's Deconstruction, Notre Monde is taking us behind the scenes to see how the Bright Abstract tray collection came to be. Take a look.
Notre Monde collections are designed by American artist Dawn Sweitzer in her own workshop in North Carolina.
Her workshop is full of colors, artworks, materials, textiles, and objects that are collected from around the world and inspire her. Her workshop acts as a living mood board environment.
The design process begins by creating a mood board. It is entirely based on Dawn's inspirations and her latest travels. The Bright Abstracts collection was inspired by saturated colors, surprising textures, and Dawn's own abstract paintings.
The mood boards help provide inspiration for the collection. Dawn experiments with different color combinations to capture the essence of the inspiration.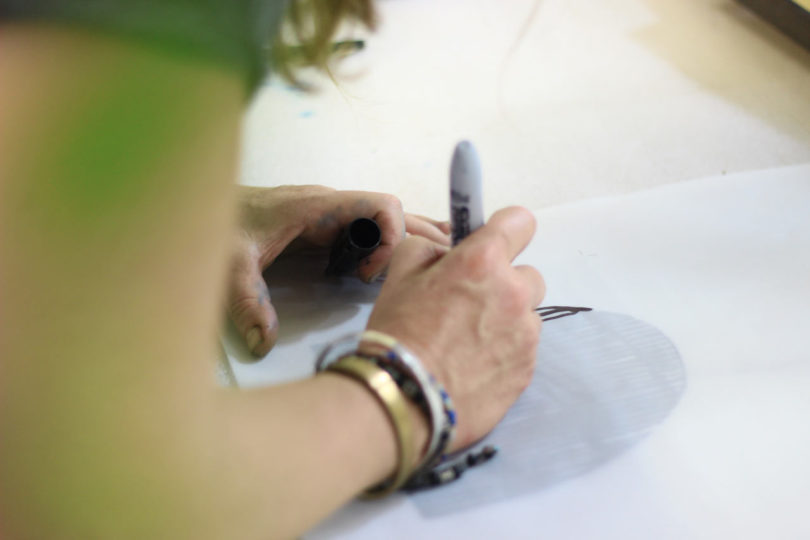 Dawn then starts to make her first sketches by hand.
Once the design is set, she refines color choices.
From there the first prototype is created by hand-painting pigments directly onto the glass.
The first samples are now ready. Once the designs are final and she is happy with the result, production of the trays is launched.
Each tray base is painted by hand. The Bright Abstracts collection consists of a water-based paint and thin gold leaf sheets that are applied directly on the glass. Each tray follows the traditional methods of serigraphy. (screen printed by hand).
Once painted, each tray is then left to dry for a few hours before being assembled.
The trays are then assembled with a backing and wooden rim.
Pairing luxury and function, the Bright Abstract trays offer a unique piece of hand-crafted artwork that can be used in daily life.