As per the client's wishes, House Ber comes complete with an open, airy floor plan and four bedroom suites. Designed by Nico Van Der Meulen Architects, the Midrand, South African home consists of a rectangular shape that houses the living room, dining room, and kitchen, with the pool and koi pond surrounding it.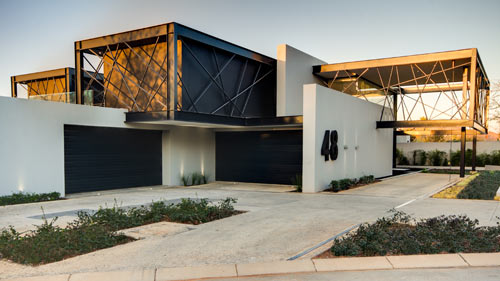 The facade on the second floor is mostly covered with randomly placed bars that were inspired by security bars. These spaces contain the private areas of the home.
The outdoor spaces play just as important of a role as the indoor ones with the frameless glass doors that completely open the kitchen and other rooms up.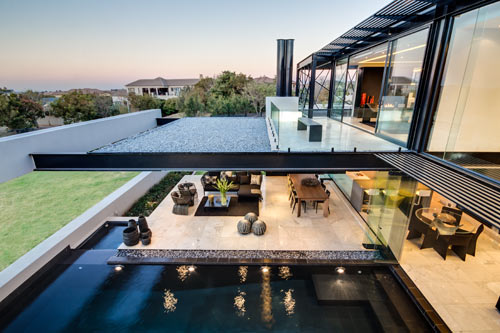 To reach the front door you must cross the koi pond. The pond also wraps around to the side of the house which frames the dining room on two sides.
With so many windows, it's all about the view
I love the pops of yellow that are thrown in against the neutral stone and dark furnishings.
Can you imagine hopping off the sofa and jumping in the pool? I can.
Photos by Barend Roberts, Victoria Pilcher, and David Ross.

Design From Around The Web