Advertised as the "Most Compact Laser Engraver", the Cubiio by Taiwanese outfit Muherz is a remarkably small, pocket-sized block outfitted with a low intensity laser just strong enough to leave an artistic mark across a multitude of materials and surfaces for embellishing with customized designs.
Childhood memories of "experiments" using the sun with a magnifying glass come flooding back upon looking at the Cubiio in action. But where leaves, newspaper, and the unfortunate ant line once sufficed as experimental surfaces for our honed solar curiosities, this new app-controlled laser engraving device outputs up to 100 adjustable levels automatically at an intensity with a maximum of 800 mW across paper, fabric, leather, wood, and acrylic. The Cubiio can't engrave metal, but it apparently can handle burning macarons and pancakes with aplomb, so we call it a wash.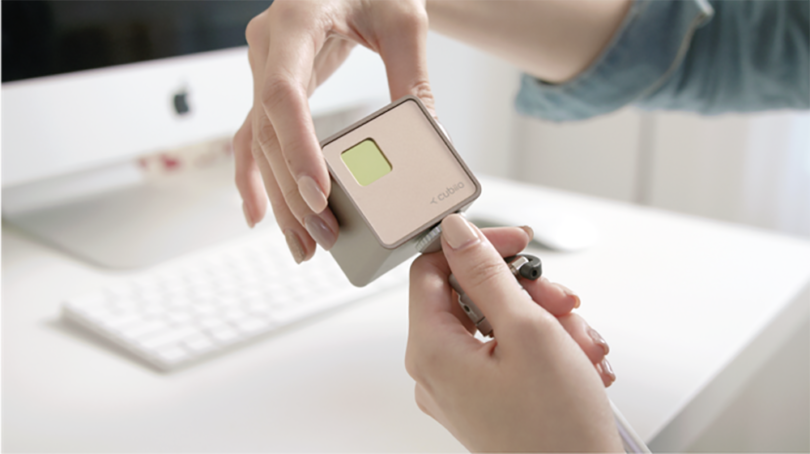 The core of the Cubiio is a semiconductor laser rated for 10,000 hours, outputting at an equivalent of 152 – 254 dpi resolution using a pair of current-driven mirrors. The engraving size, position, and rotation angle are all adjustable within the 100mm x 100mm canvas zone, with two CPU-controlled mirrors manipulating the laser to direct the beam according to plans. The Cubiio  works with uploaded photos, G-Code file formats, or phone/tablet input as graphic sources for the laser to imprint in a single or batch mode.
There's also the CubiioShield, an optional accessory designed to contain and filter harmful fumes, a common byproduct of laser engraving. The 140mm x 175mm x 155mm containment cube uses active charcoal and zeolite to reduce emissions.
The fact is the Cubiio isn't the most powerful, the cheapest, nor the highest resolution laser engraving device available. But its size and portability opens up a host of possible applications for smaller designers, crafters, or chefs to leave their mark in limited batches using nothing but the Cubiio, an iOS or Android controlled app, and their imagination.