D-Segno's Simple but Smart Furnishings Create Hybrid Spaces
D-Segno's Simple but Smart Furnishings Create Hybrid Spaces
1/21 Photos
2/21 Photos
3/21 Photos
4/21 Photos
5/21 Photos
6/21 Photos
7/21 Photos
8/21 Photos
9/21 Photos
10/21 Photos
11/21 Photos
12/21 Photos
13/21 Photos
14/21 Photos
15/21 Photos
16/21 Photos
17/21 Photos
18/21 Photos
19/21 Photos
20/21 Photos
21/21 Photos
Multifunctional furniture doesn't have to be complex in order to provide more than one solution. In fact, newly established Italian furniture brand D-Segno created by Alessandro Stabile proves the opposite is true and brings home the idea that "less is more." The inaugural collection of home furnishings solves problems that can be experienced in the modern day home environment, which is now expected in fluid spaces that support both leisure and work. Like the personified "g" in logo suggests, it's up to the user to determine how to best use each piece.
The Wally desk folds out to supply a workspace with hidden shelving that can store desk accessories. Items intended for display can stay on the top shelf as it is still visible when the desk has been folded up.
In the same vein, the Mr. Hyde is a writing desk that also reveals a storage space with a simple pull of the table top. The In&Out shelf, intended for smaller objects, follows the same design language.
Those who prefer a more permanent desk situation can opt for the Desky, which features a similar sheet metal and wood combination and creates a micro-environment anywhere in the home with an available wall.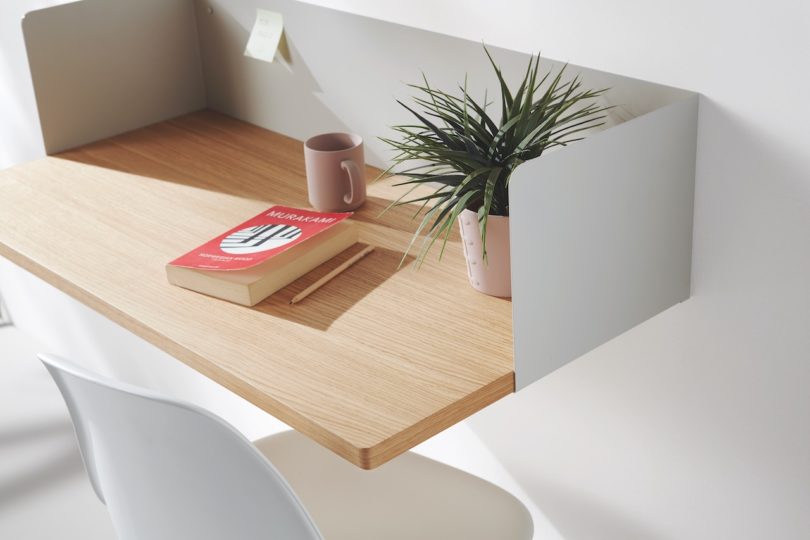 The modular Desk bookcase can be configured in infinite ways, whether you prefer a wall or floor-standing solution. You can even opt for a mobile version on rolling casters. Painted sheet metal hides the screws that support the system, which gives the bookcase its streamlined profile.
The shelf collection, made entirely from sheet metal, provides a number of sizes and colors to create a shelving display best suited for a space and its items. The Giuly wall bookcases provide additional storage with 2- or 3-tiered shelves.
Lastly, the Double can function as a coffee table or as a side table next to the sofa. Tiny cutouts serve as cable management to keep the small surface tidy.
To learn more about D-Segno's designs, visit d-segnohomeoffice.it