When Christian Holmsted Olesen, curator at the Design Museum Denmark, first approached Jasper Morrison about participating in an exhibit, showcasing the esteemed designer's work was what he had in mind. Morrison, however, countered with an altogether different proposal: that he curate a collection featuring Danish designs he loved, that he would hand pick from the museum's 20th-century holdings. Thus was born Danish Design—I Like It!
Rather than pull every obvious iconic piece, like Arne Jacobsen's Swan chair or Finn Juhl's Poet sofa, Morrison opted for the more mundane. According to Olesen, about two-thirds of the 150 objects in the show are pieces that Danes might have had, or still have, in their own homes. As for organization, Morrison grouped them by the mood they evoke, rather than chronologically.
The exhibit is arranged into colorways, with panels upholstered in Hallingdal fabrics forming the backdrop of the exhibition. The textiles, which are Morrison's favorite, were designed by Danish designer Nanna Ditzel in 1965, produced by Kvadrat, and were used to upholster many Danish classics.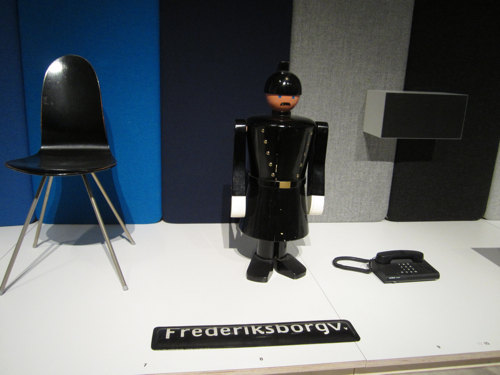 A painted wood policeman, designed by Kay Bojesen in the 1930s.
A case displays objects including painted wood toys and steel tableware by Erik Magnussen for Stelton. Above hangs Signsystem from 1972, with plastic lettering designed for Modulex and LEGO.
Left to right: Hans J. Wegner's Y Chair from 1950, Round Chair designed in 1949, the Folkestolen Chair designed by Børge Mogensen in 1947, and the Kirkestolen Chair by Kaare Klint designed in 1937-38.
On the left, a Foldestol by Poul Kjërholm designed in 1963. Next to it, the Nilfisk GN80 vacuum cleaner from 1960, and Hans J. Wegner's Y Chair on the right.
Wooden chairs from the 1940s and '50s.
Red and yellow enamel pots designed in the mid-late 1950s by Jens Quistgaard for Dansk International Designs. Behind them leans an alphabet poster by Claus Achton Friis.
On the right, Hans J. Wegner's Peacock Chair from 1947.
In the back on the right, is the Kande Jug, 1952, designed by Henning Koppel for Georg Jensen. This polished steel pitcher is one of Koppel's most well-known pieces.
Cutlery by Henning Koppel for Georg Jensen and another wooden toy by Kay Bojesen.
Design Milk's trip to Copenhagen was hosted by Visit Denmark. See more photos from this exhibit on Facebook.


Design From Around The Web