The Frame House looked drastically different when it fell into the hands of Atelier M+A. It began as a 50-year old, rundown terrance house in Upper Thomson, Singapore with very little natural light and natural ventilation, typical of heavily developed housing projects in the area. To remedy the problem, they designed an internal courtyard that was open to the sky to bring the daylight and ventilation to the deep interior, both musts in the tropical environment.
The varying sizes of windows on the front frame the views of the surrounding skies and greenery. The front facade and windows are framed to help deal with the rain situation and they're painted black to contrast the white surfaces.
The house sits on a narrow plot of land so in order to make the ground level feel more open and spacious, they installed sliding glass doors that extend the interior out onto the patio and the internal courtyard.
From the front courtyard, one can see all the way to the kitchen that's located at the rear of the house.
The internal courtyard can easily be closed off by shutting the doors or opened up to connect all of the spaces together. It helps keep the ground floor light and airy.
One long flight of stairs connects all of the levels while also creating visual continuity when looking up.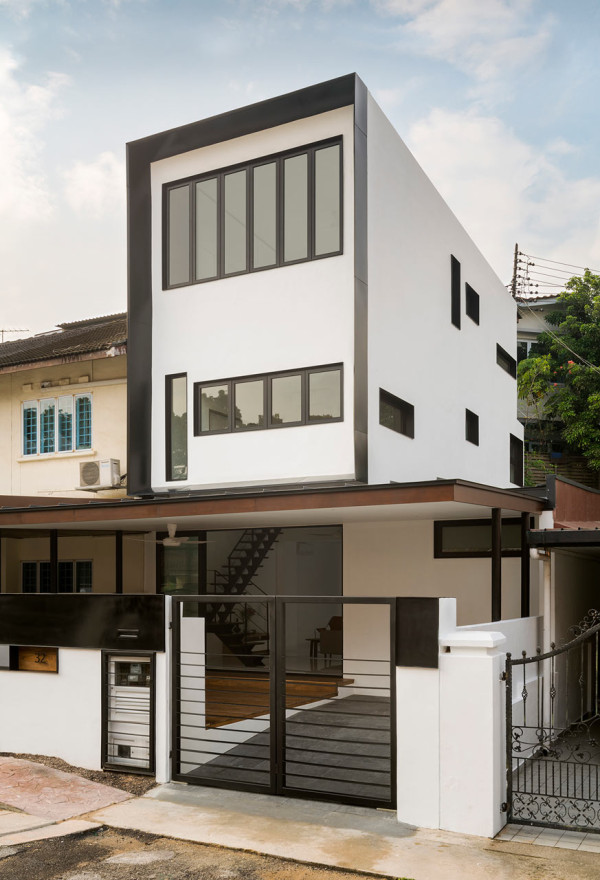 Photos by Robert Such and Masaki Harimoto.