For our very first Designer Dailies of 2014, we focus on Sheffield-based design house Psalt Design, best known for their incredibly awesome, and possibly nail biting, Bubble Tank. A collaboration began in 2010 with Richard Bell, Tom McKeown and David Powell, where the trio's goal was to focus on craftsmanship while employing local manufacturers and sustainable materials whenever possible. Their line of minimalist products and furniture will make you remember that good design truly does exist. Now, let's see how company director, Richard Bell, spends his day…
The day usually starts with a green tea and a look at the list I made the previous night regarding what needs to be done. This can include emails, ideas for concept development, and any upcoming deadlines. Doing this really helps keep me on track with what needs to be done.
I usually head into the studio at 9:30 where myself, David, and Tom meet and talk through a plan for the day so we are all up to date with the plan for the week.
Next we grab a 'cuppa' and begin by sending and replying to any emails and get to grips with our social media posts for the day.
Today we are going to quality check and pick up a new batch of our Myosotis notice boards from our local manufacturer. The majority of our products are manufactured within a two-mile radius of our studio so it's a great excuse to get out in the sunshine and onto our bikes.
Once at the manufacturers we sign the batch off and have them delivered to their next destination where they will be powder-coated in a range of colours.
Back to the studio where we pack up and send out any orders from the previous day. Today we have 'Bubble Tanks' and 'Myosotis' Notice boards to be shipped.
After lunch we head over to 'Park Hill' apartments where we have a meeting with a client regarding some custom storage solutions we are developing. We talk through the latest news as to keep the client up to date with our schedule and how the project is going.
After this, we head over in the van to pick up the metalwork for this project and take it back to the studio where we can continue working on it in our workshop.
A lot of prototyping goes on in our workshop so when we arrive back we get cracking with the development of one of our new products we are currently refining. All final prototypes are made in-house before being manufactured by skilled craftsmen in the UK.
We are currently in the process of working on our next collection which is due to be unveiled at next year's Clerkenwell Design Week. We have a range of concepts that we are working on and will be developing in the coming months.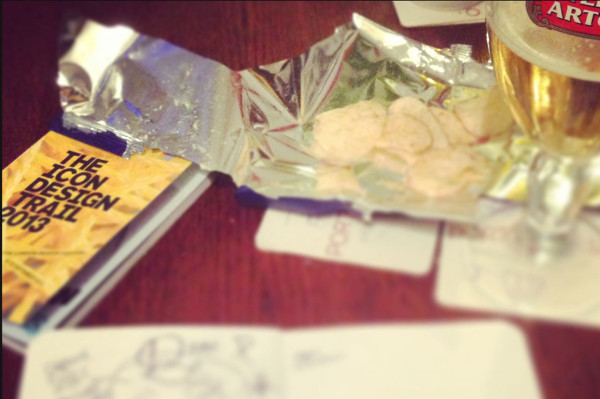 At around 7:30 PM we decide to call it. Today has been a busy but successful day so we head over the road to the pub for a quick pint and a bit of time to chat and relax.
Once home its time for some food followed by one final 'cuppa' and a bit of light reading before we do it all again tomorrow!