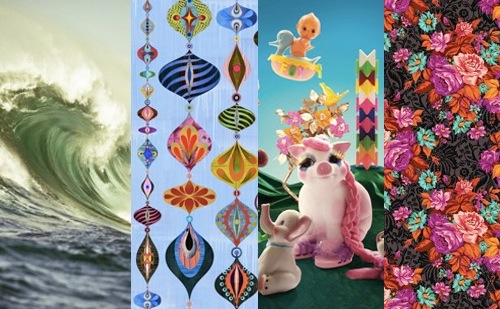 Flavor Paper makes hand-screened and digital wall coverings that can best be described as, well, flavorful. The range encompasses old-fashioned-turned-funky florals, hyper-realistic psychedelic scenes, and plain decorative fabulousness. You can even work with them to develop custom designs. In other words, Flavor Paper knows no bounds. The team let us grab a glimpse of their creative process inside their Brooklyn studio for this month's Deconstruction.
The first steps in making a hand screened wallpaper is to conceptualize a design, build it out, and then make it into a digital image so it can be printed out as a film positive like the one I am standing behind:
The film positive is attached to a screen coated in photosensitive emulsion. The design is a dense black that blocks light from reaching the emulsion when it is exposed to light.
In the background you can see a bright light which hardens the emulsion on the screen in the negative areas of the design. The positive areas, which are to be printed, have blocked the light. They are rinsed out of the screen, leaving the tiny pores open so ink can pass through and eventually create the print.
Colors need to be determined so the design can be printed.
The ink is mixed in order to get the correct color, which can really change depending on the color and material in which it will be printed.
Ink is applied to the screen in a very fine layer in order to fill the design areas to be printed.
Two printers then apply equal pressure to a squeegee in order to physically push a fine layer of ink onto the wallpaper ground material in the form of the design. Test prints are required to get the correct repeat and make sure the design is running straight and tight.
The ink is washed out of the screen with water in between print runs. This keeps ink from drying out in the screen and allows us to change colors for each print run, if desired.
A production run can take place once all of the set up and colorway decisions have been made. Here you can see how the many layers of color in certain prints begin to come together to form the full design.
Customers look through color and patterns in our showroom in order to get the information required to start printing their wallpaper.