James Modern Terrariums is Jeff Schneider, an art director in fashion for over 10 years who left his job to focus on modern industrial design and home decor. Growing up with two parents who were passionate gardeners, Jeff began collecting plants at a young age — the more obscure the better. Recognizing a gap in the market for modern, minimal terrariums, he decided to create terrariums for people who shared his same aesthetic.
Self-contained ecosystems have always been fascinating to me. As a child, I loved the challenge of keeping creatures happy and healthy in environments that mimicked their native habitat.
In the 90's, I read an article in a home magazine about terrariums using mason jars, fish tanks, etc. Lacking any land or garden in New York City, I decided to create my interpretation of the terrarium, using modern vessels and minimal plantings. I eventually designed a custom minimalist rimless glass cube and have created countless terrariums since.
A few years ago, I left my job in fashion and decided to focus on industrial design and home decor. I have been creating and modifying my own furniture and home accessories since I was very young. Between prototypes of lighting, vases, and decor, I decided to create a few terrariums. I recognized a gap in the market. All of the terrariums I had seen (at that point) were very cutesy and homemade. There were very few modern terrariums being sold. I put a few of my terrariums on the internet to get feedback and the reaction was excellent.
At this point, I was only creating glass cubes and using ready-made vases/vessels. Unable to find modern, organic, biomorphic vessels for my plantings, I decided to render my own shapes and work with a glass blower to create them. Now, I can work with clients to design one-of-a-kind terrariums for their space.
Inspiration and design
When creating terrarium shapes, I look to nature, art and design for inspiration. Gourds, pebbles, mushrooms, fungi, beans, amoeba, even the human heart have been sources of inspiration. In addition, I find a great deal of inspiration in modern and mid-century modern design as well as everyday objects. I love anything with beautiful curves that mimic life.
I either work with a client to create a shape for their space or they can choose from shapes I have available.
Glass blowing
Throughout the glass blowing process, I work with the artists to make certain my terrariums are evolving as I envisioned.
Activated charcoal
On the bottom of the terrarium, I place a one-half inch layer of activated horticultural charcoal. The charcoal will absorb harmful organic materials; keep the soil fresh; and prevent fungus and mold from growing. Since the environment is self-contained (unlike a potted plant, where the roots and soil would receive fresh air flow), the terrarium needs the charcoal to absorb organic chemical build-up and fight bacteria.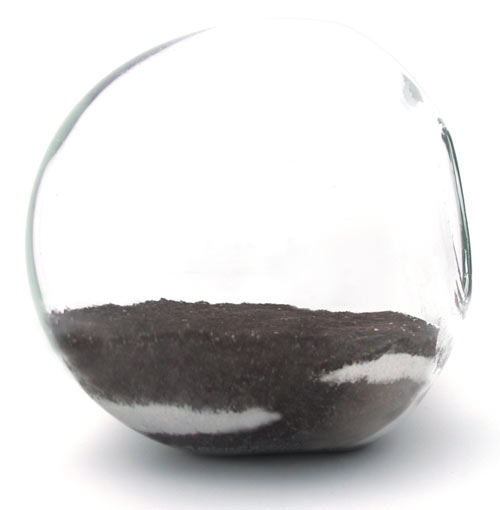 Soil
I create my terrarium soil from scratch. One should choose a soil suited to the plants inside. If you're creating a succulent terrarium, buy a succulent and cacti terrarium mix. Otherwise, use a regular potting mix. I mix a half-cup of activated charcoal into the soil mix. The charcoal will keep the soil fresh. In addition, being porous, the charcoal adds some needed lightness and drainage to the soil. I add layers of sand or other materials to add visual interest to the bottom of the terrarium, making certain these materials are inert and will not leach any harmful chemicals into the soil.
Plants
I tend to plant true miniature plants. They are rare, but worth the end result I'm seeking… plants that are in proportion with the terrarium.
In an enclosed environment, where every detail is visible from all angles, it's important to trim any unsightly or damaged leaves (see the image above of a Miniature African Violet).
The terrarium allows me to use plants that thrive in the humid conditions of a terrarium. For example, ivy and certain ferns quickly wilt and become susceptible to disease and insects in the dry conditions of the home, but will thrive in terrariums.
It's also necessary to know which plants will survive and complement one another in the same terrarium. Plants must have similar humidity, water, and light requirements. In addition, it's important to make certain that the plants complement each other aesthetically. Color, shape, and textures are all important considerations when grouping plants in a terrarium.
I make certain the roots of plants are loose so they can easily establish themselves in the terrarium soil. Some plants may be root bound (see above). I gently separate the roots with a fork.
I then create a well in the soil and make certain to place the plant at the same level it was in the pot.
I fill in the well with the surrounding soil and gently tamp down around the plant to remove any air pockets. After all the plants in the terrarium are in place, I water them each to ensure that air pockets are removed from the roots. Watering also helps the plants establish themselves and take root in the terrarium.
Depending on the opening and the depth of the terrarium, it's necessary to use tools I have created to plant items. The miniature species of moss above has to be planted with tweezers one piece at a time.
Mosses need specific soil requirements. An acidic substrate must be put down over the existing soil before planting.
Decor
I use decorative stones from around the world to add complementary texture to my plantings. If a client wants a natural look, I collect and dry items such as acorns, lichen covered twigs, etc. I treat these items to kill any insect larvae and disease. Care must be taken to place any these stones, rocks and decor around delicate stems without crushing them.
Final touches
A soft brush is useful for removing soil and dust that has accumulated on leaves during planting
Delivery to the client
Part of the fun of creating a terrarium is watching it grow and fill out. When I hand a terrarium over to a client, I want it to look perfect. Therefore, I hold onto it for a few months; remove anything that isn't doing well; and learn the light and watering needs of the terrarium. Once handed over to the client, all they need to know is where to place it in their home and how much and how often to water it. Aside from that, the plants inside will continue to thrive and grow.
For more information on James Modern Terrariums and terrariums in general, visit his website at jamesmodern.com and blog.