My obsession with Scandinavian design aside, I've been particularly preoccupied with white spaces punctuated with pops of color (excuse the incessant alliteration). You see, I'm decorating a small condo in Florida, and it's the theme on which I've decided. I think. Truth be told, the furnishings are all white and pale wood at the moment, but I'm hoping to resurface the floors and walls (all white!) and start hanging colorful art, throwing down some bright rugs, and settling on a few well-placed pillows. My thinking is this: If I look at enough photographs like the ones here, I, too, will create an airy, cheerful space. We shall see. In the meantime, join my longing gazes.
It takes guts to keep such a big room so spare, not to mention placing a dining table on a white shag rug. The room shown above, from Bolig Magasinet, gets it right, from the copper pendant to the color saturated abstract art.
Alvhem Makleri (or, for English only speakers, Alvhem Estate & Interior) is the source of this casual living room. Furnished with an IKEA locker console, contemporary white sofas, a vintage coffee table, and lime green rug, it looks easy to replicate, and affordable.
Danish mag Bo Bedre can be counted on to showcase perfectly put together rooms complete with animal hides, candles, and punches of bright color.
Funkier than the usual Elle Decor interiors, this loft space has an eclectic mix of mid-century, contemporary, and boho pieces. The main elements are black, white, and wood. It's the green ikat pillow and hot pink flowers that add color. And the brass wall sculpture adds shine.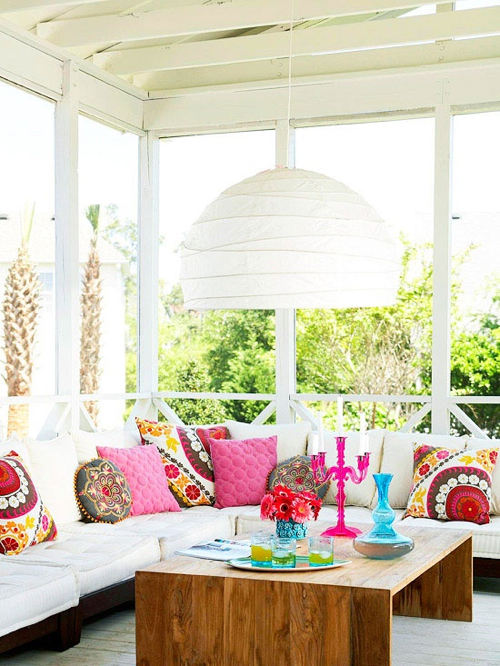 Who knew Better Homes & Gardens was worthy of a gander for modern inspiration? This porch is perfection, with comfy white seating, a contemporary wood table, suzani pillows, and a perfect pink candelabra with a distinctly Danish flair.
An of-the-moment over-dyed rug (so oceany!) sets a saturated stage for two vintage leather armchairs in this living room sourced from Finnish pub Scandinavian Deko. The whimsical artwork takes the almost serious space down a notch.
This is a bedroom in a concept guest house in Ghent, Belgium, above the gallery Sofie Lachaert, designed by Droog Design. It allows customers to experience Droog's products in a fully equipped apartment. It's called Droog for Rent. The colors of the Color Plaid Blankets by Thomas Eyck are simultaneously soft and bright.

Photo by Espen Grønli
Under the eaves proves to be a great space for a study. Books provide color, along with the backs of the bookshelves above the writing space, the file cabinet, and stool.
Swedish magazine Sköna Hem is a never ending source for these looks. As always, the floor is painted white, but look closely, the wood is showing through, and it's herringbone. Lovely. Striped pillows and throw provide the white sofa with color, and a daring cobalt blue upholstered vintage armchair makes things homey. The artwork, mostly leaning against the walls, is fabulous too.
The ubiquitous black and white IKEA rug in offset stripes is a sure bet on a white floor. The plain pale gray sofa is enlivened by plush toys and pillows, and a ledge filled with art above may just be for kids' creations. Photo via StyleRoom, a Swedish scrapbook site.
In this image by French interiors photographer, Bruno Suet, mid-century furniture is set off in a minimalist setting that could be the model for a contemporary dollhouse for Barbie, given the bubblegum pink spiral staircase.
Photographer Espen Grønli captures a child's room. Who else but the tiniest human could sleep under such a low pitched room? Love the pink and red circle rugs and the yellow wrapped mattress.
Are you ready to paint everything white and throw down some color? Click over to StyleCarrot's 32 White Rooms with Pops of Color for more bright inspiration.