For this installment of Design Crossover, let's study how one designer's work has been inspiring other designers for decades.
Arne Jacobsen was a Danish architect and designer. He is most known for simple, smart chair designs but his talent didn't stop there. He left his creative imprint in architecture, lighting and even textile design.
Here's just a few of his designs and how they have inspired other designers, making there more to love and choose from when decorating our homes and offices.
Inspired by other minimalist designers, such as Mies van der Rohe, Jacobsen designed the Rødovre Town Hall, which is just West of Copenhagen. One of the more noted elements of the complex is the staircase, which is suspended from the roof.
Since then, many modern staircase designs have popped up resembling Jacobsen's design. This staircase above (right), designed by Francesco Librizzi, follows the same design direction with a linear suspended-like design, reaching to the roof.
The green Pre Prop Chair was designed in small numbers by Jacobsen for Arko Oy Helsinki and never reissued. I couldn't help but notice the similarity found in this lamp designed by Joe Colombo—both designed around the same time and curious to know who inspired whom in this situation?
One of Jacobsen's most popular designs is the Egg Chair, which can be found in most modern homes. This chair has been re-designed in many colors and textiles.
It has also inspired similar designs that can be found in attainable home furnishing stores, such as IKEA.
While not something he was necessarily known for, Jacobsen also designed textiles, like this one above (left). The wallpaper on the right was developed by Scandinavian designers Borastapeter using Jacobsen's pattern. They also created wallpaper patterns by other Scandinavian designers including Stig Lindberg and Sven Markelius.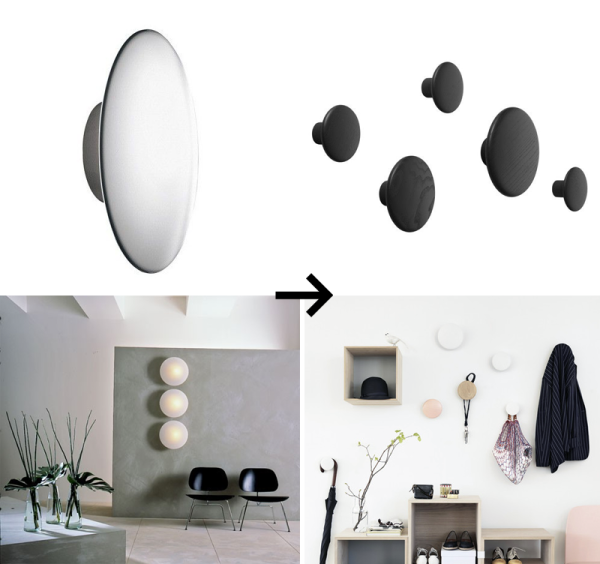 As we noted above with the lighting design and wallpaper, inspiration can cross the lines between genres. Muuto has designed minimal wall hooks that, when hung, strike a serious resemblance to the Eklipta wall light (left), designed by Arne Jacobsen.
What else have you seen with Jacobsen inspiration?