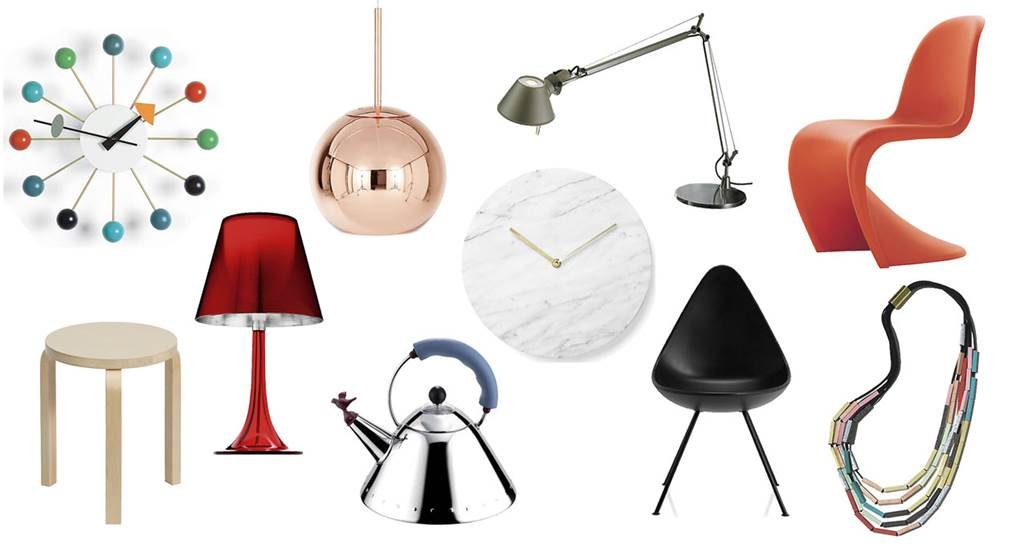 If you're a lover of modern design, most likely you're aware of just how expensive it can be, oftentimes leading us to save our money in hopes of one day owning a piece. Just because it comes from a renowned brand and designer doesn't mean it's always going to be unattainable. Luckily, there are still affordable iconic pieces out there that we can get our hands on while saving up for the bigger items. We scoped out Lumens to find 10 design icons under $500 and here are some of our favorites, which happen to be on sale right now!
Ball Clock by George Nelson for Vitra \\\ $395
The Ball Clock has been around since 1947 and Vitra has been offering the authentic re-edition with the permission of George Nelson's estate. It's a great way to own one of America's most well-respected designers' pieces for a great price.
Copper Small Pendant by Tom Dixon \\\ $460
Copper continues to reign in the design world and this smaller pendant continues Dixon's incredibly popular Copper series with a highly reflective shade that will add major shine to any room.
Drop Chair (Plastic) by Arne Jacobsen for Fritz Hansen \\\ $431
This side chair was finally put into production over 50 years after it was first introduced in Copenhagen and with a plastic version, this iconic design is much more affordable.
Panton Chair (1999) by Verner Panton for Vitra \\\ $310
Revised in 1999, making it the last Verner Panton authorized, this durable chair is molded from a single piece of dyed polypropylene, which keeps it reasonably priced. The chair comes in six matte colors, while the original 1959/60 versions have a glossy finish.
Kettle with Bird Whistle by Michael Graves for Alessi \\\ $190
Designed in 1985, this kettle remains the most popular piece in Alessi's long history selling more pieces than any other item. It's simple, geometric stainless steel silhouette is topped off with a fun bird spout that whistles when the water boils.
Miss K Table Lamp by Philippe Starck for FLOS \\\ $355
Miss K boasts a sleek shape made of a transparent polycarbonate shade with a translucent metallic interior and a flared base, resulting in a luxe, futuristic lamp from one of the biggest designers in the game.
Marble Wall Clock by Norm Architects for Menu \\\ $200
Marble has proven that it will forever be a staple in the design world thanks to its classic look. Bringing it to the wall in the form of a modern clock makes a bold statement for the wall in an elegant and timeless material.
Stool 60 by Alvar Aalto for Artek \\\ $275
Launched in 1933, this three-legged, bent wood stool was groundbreaking at the time and its clean lines and minimalist silhouette mean it will always be an iconic design. The best part is that this birch stool doubles as a side table when you need one.
Tolomeo Mini Table Lamp – Incandescent by Giancarlo Fassino & Michele De Lucchi for Artemide \\\ $390
The Mini version is 20% smaller and more affordable than the classic version, but it still packs a mean punch in its smaller package. The same high-quality, award-winning engineering that goes into the original lamp, finds its wall into this one so it's fully adjustable to provide direct task light to wherever you need it.
Necklace No. 11-01 by Iacoli & McAllister \\\ $285
Iconic designs aren't strictly home furnishings and that is the case of this colorful, five-strand necklace that features an array of square brass and copper tubes in uncoated and powder coated finishes.
Shop the rest of their design event here.