Hong Kong is a city of opposites. On one hand, it's a bustling, urban center with a major port, making it a vital business hub where people from all over the world meet. On the other hand, it's a lush, tropical island dotted with white sand beaches that you can swim at until November. Like its physical characteristics, Hong Kong's cultural history has been heavily influenced by opposing forces. Ancient Eastern philosophies meet Western sensibilities, resulting in complex and intriguing design philosophies that are truly one-of-a-kind.
---
WHERE TO STAY
The Tuve Hotel is a minimalist's dream come true. This stark hotel focuses on interplay between shadow and light. This hotel strays away from excess and grand gestures. Instead, it becomes a quiet respite in the heart of a city that never sleeps. The designers used mostly raw materials, such as concrete, metal, and marble to create serene escape for guests.
There is also the world renowned Mandarin Oriental. Hong Kong is home to the flagship Mandarin Oriental, and also the first one built. Enjoy a luxury experience overlooking the harbor in the heart of Hong Kong island.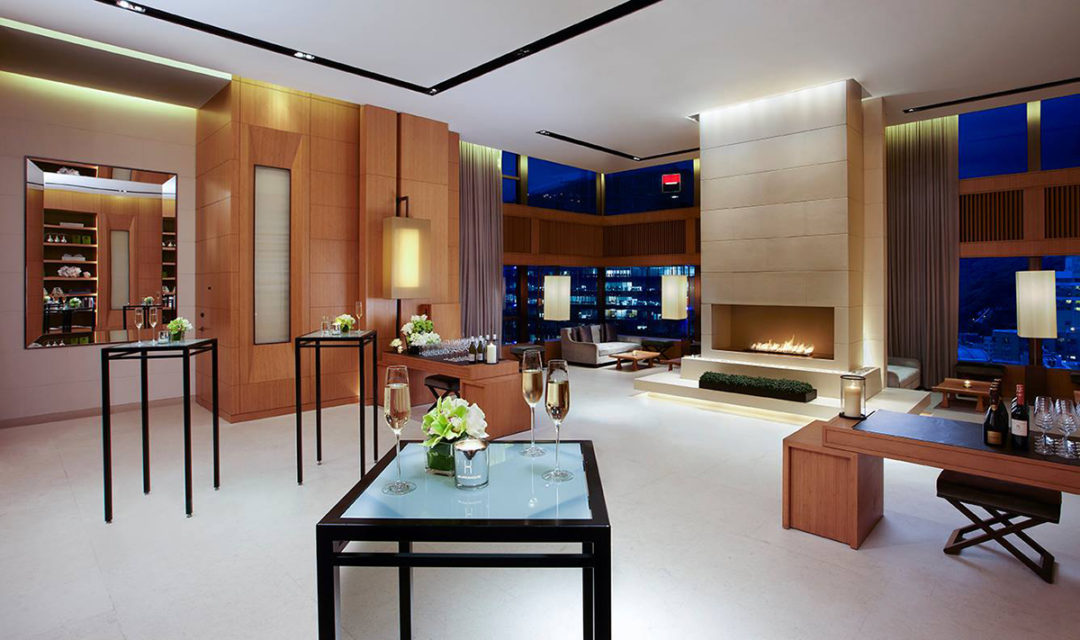 For something a little less fussy, head up to the The Upper House. Designed by interior architect Andre Fu, "the house" is a place for those to enjoy a calm haven above the busy streets of the city. Using natural materials and playful lighting, Upper House is a modern escape that is meant to act as a home away from home.
---
WHERE TO PLAY
The Peak is a classic spot on Hong Kong Island that's not to be missed. Take the classic Peak tram, where you can enjoy breathtaking views of the city and the harbor. Then, continue to enjoy all the lush nature around by hiking the trails leading from the top.
Obviously, the Hong Kong Design Institute is not to be missed. As a central hub of design in the city, the campus is not only an educational space, but also houses state-of-the-art workshops, art galleries, and fabrication centers. It was designed by French architects Coldéfy & Associés and is a futuristic, modern center where light and transparency act as primary functional elements.
Asia Society Hong Kong Center is a heritage site established in 1990 by community leaders in Hong Kong. Formerly British military compounds, it was transformed into a creative, cultural, artistic and historical hub for Hong Kong residents and tourists alike. Not only do they have photography and film exhibits, but the center is known for hosting thought-provoking discussions with industry leaders about a variety of philosophical topics and current affairs.
The West Kowloon Cultural District, while still in progress, is promising to be an important cultural hub right on the water on the mainland part of Hong Kong. Though, the M+ Museum is still in construction, the Nursery Park and M+ Pavilion recently opened. The M+ Pavilion is a stunning, reflective pavilion that serves as a place for small scale exhibits and events by local artists.
---
WHERE TO SHOP
Hong Kong is a mecca for design aficionados, whether you're shopping for home, clothing, or art. Though Causeway Bay and Central are the best neighborhoods for upscale shopping and boutiques, Women's Street in Hong Kong is famous for late night kitschy shopping.
Homeless is a trendy, tongue-in-cheek home store specializing in local and international furnishings from furniture to lighting to party decor. It started off with one location, but now has eight locations throughout Hong Kong. Homeless has two meanings— people can look for items that their home lacks, or if you look at it from the product's point of view, they're homeless until purchased.
For contemporary home furnishings with an Asian influence, check out OVO Home. This concept store has everything from decor to modern furniture, and also provides full-scale interior design services.
Joyce Hong Kong provides high-end fashion in a beautiful, gallery-like stores. Having been around for 40 years, Joyce has extended beyond simply fashion and has entered into the world of beauty, art, and haute couture.
Storerooms has three different shops, each with its own distinct personality. However, all three of them have curated art, clothing, and decor from Hong Kong and worldwide. Vintage furniture and lush greenery give each of these boutiques a cozy and tranquil vibe.
The Gentle Monster flagship store in Hong Kong is a trip. Stepping in, you wouldn't believe it's "only" a sunglasses store. With its bright bold colors, velvet sofas, and quirky details, each room is designed to showcase their sunglasses in a unique way. Each mini room in the store has its own theme, turning each visit into a little design journey.
Potato Head Hong Kong is a multi-use space that has retail shopping, coffee, and a restaurant. Designed by Japanese architect Sou Fujimoto, this colorful and funky space is meant to create a sense of belonging in this bustling city. There's even a hidden back room for audiophiles to meet and hangout. 
What's amazing is that every time I go back to Hong Kong, it feels like home, yet at the same time, a brand new city. Certain parts are familiar, but there are always new places popping up left and right, whether a design-oriented hotel or a modern cafe. Every nook and cranny hides a tiny new shop or cafe, and there is not enough time in the world to finish exploring this densely-packed city.
What are some of your favorite art galleries/museums, architecture, places to stay or shop in Hong Kong?
This post is in partnership with TUMI. Our partners are hand-picked by the Design Milk team because they represent the best in design.