To continue our series of travel guides in partnership with TUMI, we're jet setting from LA all the way across the US to NYC.
Now, you're probably wondering to yourself, a guide to New York City design highlights is like trying to summarize an encyclopedia: a nearly impossible task. We agree… there's just so much. But let's start somewhere because you certainly won't have to travel far to find design in New York. Almost as soon as you get off the plane, you'll be enveloped by it. If you fly into John F. Kennedy International Airport, you'll immediately spot the TWA Flight Center or Trans World Flight Center, opened in 1962 designed by Eero Saarinen for Trans World Airlines. It's kind of a bummer that it's going to be converted into a hotel for the airport's passengers (scheduled to open in 2018), but it's quite a sight to behold. We hope they keep as much of the original design as possible.
This guide won't mention some of heavy hitters that are likely to be on the list of every first time visitor. Yes, you should go to the Met and MoMA. You should go to up in the Empire State Building and walk down Fifth Avenue. But then what? This is the answer to that question.
If there's one piece of advice that every visitor should heed it's to: walk, walk, walk. And keep your eyes open. The best of New York City design is the street life. The shop windows deserve your attention. The door colors. The fashions. Check out the bathrooms of the fancy bars and restaurants. Soak it all in. And stay tuned for upcoming guides to specific neighborhoods where we can delve a little more into the details of what make New York City a design traveler's paradise.
---
WHERE TO STAY
This the city of which hotel dreams are made. There is quite easily something for every taste and budget. Here are just a few of our favorite places to lay your head with some links to particularly stellar hotels around the city. I'm a downtown girl, so I'd recommend somewhere south of 14th Street, but there's are plenty of spectacular options (like the favorite of Prova designer Irini Arakas, the newly opened Le Parker Meridien), for those who may want to venture further north.
This latest hotel from Aby Rosen was formally a Holiday Inn, but 11 Howard has shed all vestiges of its motel chain past. You enter in a minimal lobby (no check-in desk, just a concierge + iPad). This 221-room hotel is all about Scandinavian chic and Scandinavian designer Oliver Gustav has a store just off the lobby. And because Aby Rosen is also a major art collector, there is a significant art component. (He even brought in Jeff Koons to mentor teens who painted a mural on the southside of the building.) The hotel's restaurant, Le CouCou designed by Roman + Williams has quickly become the most sought after reservation in town. If you can't manage to snag one, console yourself with martini in the hotel's bar The Blond.
Yes, it can be a little "too cool for school", but it's hard to argue the fact that, for the last fifteen years, Williamsburg, Brooklyn has been one of the most vibrant neighborhoods in the city. Even with the recent changes (Whole Foods and Equinox are new additions), you'll find an energy that's hard to replicate. It's just one stop from Manhattan's East Village, but you could easily spend your entire trip in the neighborhood. (And we'll have a guide just for this neighborhood soon!)  The Wythe Hotel opened just about four years ago in a 1901 converted textile factory building on the waterfront. There's a pretty delicious restaurant on the ground floor and a swanky terrace bar on the 6th, but don't spend all your time indoors. Just up the street is a string of pretty spectacular stores: Mociun, Kinfolk Studio, and Pilgrim Surf & Supply.
If you're looking for another Williamsburg option, The Williamsburg Hotel recently opened, with the first ballroom in the neighborhood.  (And stay tuned, spring 2017, they'll be adding a water tower bar and rooftop pool into the mix.)
Also worth a sleep: Ace Hotel New York \\\ Hôtel Americano \\\ Soho Grand \\\ Crosby Street Hotel \\\ The Ludlow  \\\ Le Parker Meridien
---
WHERE TO PLAY
You'll certainly leave the city with a list of potential things to do longer than the one you came with. There are just not enough hours. Before your trip, keep an eye on exhibitions listed in The New York Times Art section (the art entertainment guide is here).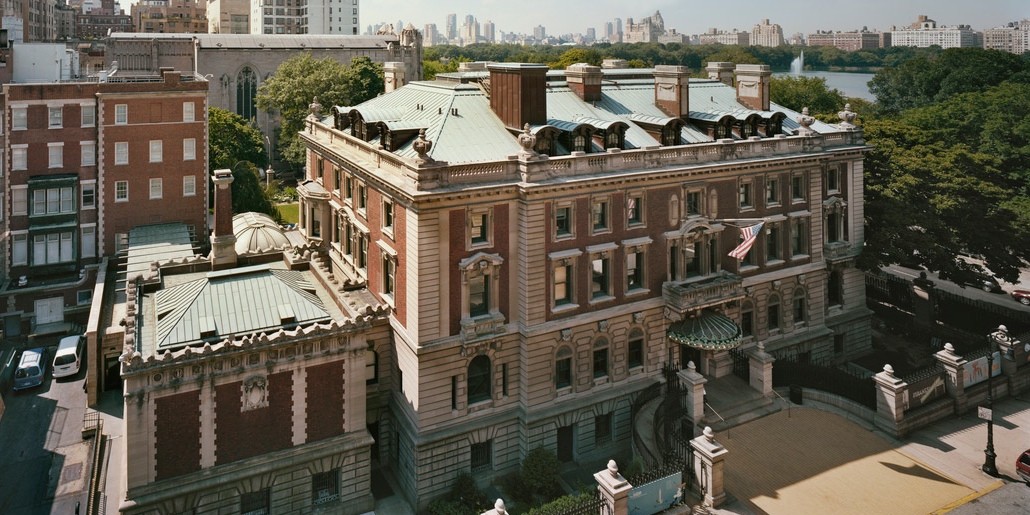 The Cooper-Hewitt Museum, housed in Andrew Carnegie's mansion, deserves a spot on any New York City short list.  (I'll admit to just the tiniest of biases here: I graduated from the Decorative Arts Master's program that the museum co-runs with Parsons and attended school in the building.) In 2014, the museum reopened after a 3-year-long, $91 million renovation. This is the only museum in the country devoted solely to exploring historic and contemporary design. The renovation hasn't taken away any of the magic of Carnegie's mansion, but has made it a must-see if you have any interest all in interactive, immersive creative technologies. You can view digitized collection on large touchscreen tables; draw wallpaper designs in the Immersion Room;  or play designer in the Process Lab. There's also the Connected Pen developed in collaboration with Local Projects, an interactive design agency, which allows you to "collect" objects that you spotted on your visit. If you're not planning a trip to the city anytime soon, you can still get a sense of 30 centuries of design history by checking out the museum's in-depth online collection.
In a city that claims the phrase: "There are three things that matter in property: location, location, location," the newly opened Whitney Museum gets high marks. Overlooking the High Line, on one side, and the Hudson River, on the other, the new Rinzo Piano-designed museum is worth a visit for the views alone. But even if you come for the views, stay for the art, the new building offers twice as much gallery space as the Breuer building on the Upper East Side. (While you're there, grab a drink or snack at the wittily named Untitled, the latest museum restaurant by Danny Meyer.)  To get yourself into the Whitney spirit of things, check out the New York Times architectural review of the building, which has some pretty spectacular interactive photos.
If you head a bit uptown, you can snap a pic of VIA 57 West, a residential building with 600 apartments, which was designed by Bjarke Ingels Group (BIG). The pyramidal shape is not only unique aesthetically, it functions to create an interior courtyard. Maybe you can make friends with someone who lives there so you can sneak a peek inside…
Only in a museum-filled city like New York would such a gem like Tenement Museum fly under the radar. The Museum tells the story of the immigrant experience in New York's Lower East through docent-led tours of 19th century apartment buildings which were once homes to thousands of recent immigrants. Prior to visiting, you go online and book specific apartment tours. You can visit the apartments of Irish, German, Jewish and Italian tenement residents to glimpse what life was like for many New Yorkers in the 19th century. From the jar of marbles on the table to the clothesline filled with period garments hanging in the parlor, each apartment in 97 Orchard Street feels like a time capsule. Usually house museums tell the story of society's wealthiest, this is truly how the other half lived. (While you're in the neighborhood, be sure to pop into Economy Candy, which has been satisfying the LES sweet tooth since 1937. For something a little more substantial, Russ & Daughters, started by a pushcart merchant in 1914, just opened a cafe around the corner from their famous shop.
On the other end of the house museum spectrum there's Donald Judd's 1870 cast-iron loft building. (Of the 250 cast iron buildings in New York City, half of them are in SoHo, so this is a great opportunity to also get a look at a piece of architectural history.) Judd lived here from 1968—when he bought the space for $68,000—to his death in 1994. Over the course of the last decade, the foundation has made select art sales to fund the $23 million dollar transformation of the house into museum. The docent-only tour of Judd's home and studio takes you up the stairs where you can peer into each floor of the Judd house and life. My favorite was the industrial kitchen finished with pieces from Bowery restaurant stores and reading the labels on his liquor bottles. (Slightly voyeristic but thrilling.)  There are 200 pieces of art and furniture and 1,800 household objects in the space, but it's airy and open and filled with light. Because the museum is tour-only, it's fairly slow going. (Left to my own devices, I probably would have been through in the half the time, but there was something quite meditative about the slow pace. You really began to notice the smallest details of the museum. (Book the tour online—there is usually a two-week waiting period).
---
WHERE TO SHOP
If there's a theme is this guide, it's that in New York City, you're spoiled for choice. Shopping is no exception. Here are a couple of shopping highlights: old stalwarts as well recent newcomers to the NYC shopping landscape.
A trip to the interior design mecca that is ABC Carpet & Home has to be one of the most inspiring places to spend the afternoon. This store is the stuff that designer dreams are made of (and not the bargain kind). The store is decidedly high end. ABC store buyers scour the country and the world for unique, handmade items that you won't find anywhere else. The store takes up a massive 350,000 square feet, which is a big leap from its 1897 beginning, as a cart selling carpets on the streets of New York. When the founder's great-granddaughter Paulette Cole (now CEO) took the helm in the '90s, she began bringing in finds from all over the world creating the flea market-like shopping experience that is still palpable today.
(If you're up for a food splurge, you can't go wrong with the Kitchen, the spectacular Jean-Georges Vongerichten restaurant in the basement.)
Founded by former art gallerists Helena Barquet and Fabiana Faria in 2013, this Lower East Side gem is stocked of one-of-kind pieces—things you never knew were missing from your life until you spotted them on the shelves of Coming Soon. (Like the walnut tray with a brass insert. Perfect for tossing keys and change at the end of the day.) It's pretty much the epitome of Lower East Side cool (which is saying quite a lot) The pair take a collaborative approach with the designers featured in the store, which feels more like a visit to a design savvy friend's apartment with the perfect mix of vintage finds and quirky home goods. And when you're all shopped out, head around the corner to the Fat Radish for a lunch menu that's equal parts wholesome (think macro bowl) and artisanal British pub (did someone say duck fat chips?).
Even if your mall days are long a thing of the past, the newly opened (to the tune of $4 billion) Westfield Mall and Oculus, designed by Spanish >neofuturistic (controversial) architect Santiago Calatrava, is worth a peek. Go even if it's only to see the Oculus, the central promenade of the World Trade Center Transportation center, with it's modern columns that stretch 160 feet upward toward an array of skylights (cathedral comparisons are easy). For lunch, head to the new Eataly Downtown 45,000 sq. feet of breads, cheeses and fresh pastas. (Bonus: the Eataly floor is ripe for Instagram floor shots).
Also worth a visit: Canvas \\\ Fishs Eddy \\\ Michele Varian \\\ Jung Lee \\\ Tom Dixon \\\ Creel and Glow \\\ John Derian \\\ Lee Broom
---
DAY TRIPS
If you're up for a little adventure, the always-in-the-know Irma Zandl recommended the newly opened Hills at Governors Island, which just happen to offer some of the best city views. Located just 800 yards from Lower Manhattan, this little island has been part of New York City's history since it was called Paggank (Island of Nuts) by local tribes. Mostly recently it was the base for the Coast Guard. Then in 2003, the Federal government sold it back to the city for $1. Dutch Urban Design and Landscape Architecture firm, West 8, developed the master plan for the island. And just this summer, one of the island's newest landmarks opened: The Hills, which rise 70 feet above sea level, are constructed entirely out of fill and debris from the buildings that used to occupy this part of the island.
If you're an architecture fan, this home needs no introduction. It's the iconic Glass House by the first Pritzker Architecture Prize recipient, Philip Johnson. Built in 1949, Johnson's retreat has expanded to include 14 structures, but it's the original minimal structure that draws visitors. And by minimal, we mean pared down living on steroids. Johnson spent three years perfecting the design of the bedroom, bathroom, kitchen, and dining/entertaining space—all neatly packed into a simple 32′ by 56′ rectangle.
The home is 45 miles from New York City in New Canaan, Connecticut, and is only open from May 1 to November 30 and tickets sell out so definitely book in advance.
---
Of course, the most fun is finding your very own favorite spot. Don't keep it to yourself, share in the comments! What's your favorite New York City watering hole, restaurant, shop or gallery?
This post is in partnership with TUMI. Our partners are hand-picked by the Design Milk team because they represent the best in design.