Editor's Note: After asking you what you were most interested in seeing more of on Design Milk, we decided to launch a brand new regular column called Design Store(y), which will spotlight brick-and-mortar retail shops from around the world. We'll get an intimate look at the products on the shelves and the store-y (ha! get it?) behind them, direct from the store owners and managers themselves. Perhaps you'll get the chance to visit one of the featured stores yourself one day, but if not, at least you can take our virtual tour. This first article is a bit of an oddball, as it features a shop within a shop, but we're so excited to have the inside scoop on this unique shopping experience.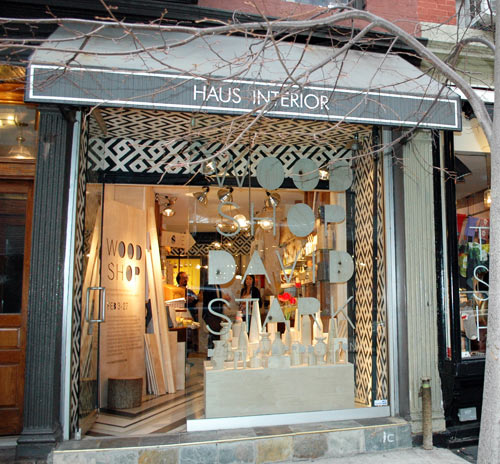 Over the last nine months, designer David Stark developed a collection of 75 wood shop-inspired home accessories. Last week, Haus Interior shop owner Nina Freudenberger emptied her shelves, ceding her boutique in New York City's NoLIta to Stark's creations. Wood Shop, an event that pushes the boundaries of traditional retail in that it's more "ambush," as Stark's coined it, than pop-up, runs through February 27, 2012.
Stark and Freudenberger both went to RISD, though not at the same time. In fact, they didn't meet until last year, when they were seated across from each other at an alumni dinner. Bonding quickly, they decided a collaboration was in order. Over the last year, the project took on a life of its own. Freudenberger says, "David is one of the only people I'd trust to give carte blanche; there were no restrictions. I think it's important he got to tell the full story. It's refreshing for me to see what someone else can do with the space." We popped in for a preview and chat with Stark.
Haus Interior after it was completely cleaned out:
Wood Shop:

David Stark hanging with us in his newly stocked Wood Shop.
Have you done anything like this before?
Once we did a store within a store at West Elm, but this is the first time we've done an ambush. I think it's the next big wave in shopping.
Where did you get the idea for a wood shop?
We have a wood shop at our studio where we build things for events. I always look at the different tools . . .  We did a project a year or so ago for which we wanted the items to be in context, so we built a whole world out of  SmartPly (a wood composite) to make it clear what was the set and what were the products. It occurred to me that it could be a concept in its own right, so we blew it out.
What was the first piece for the collection?
The starting point was our Valentine, which can be framed as a poster. That piece stemmed from the holiday cards we sent to clients over the last several years. They  folded out into posters; people started calling for copies so they could frame them. Then we started thinking about everything to do with a workshop. All the iconic details from the studio and how they can find their way in in different kinds of applications. Some zany, some useful, some realistic, some a fantasy. At the end of the day, it's a delightfulness that is akin to a party.
What was the hardest piece to create?
Definitely the knitted paint cans. Most of the items were made in shops around the City, but these came out of Bolivia. It was hard to communicate how we wanted all the details of a metal can to seem realistic, but knitted.
Did you hold back any pieces for yourself?
I saved the samples of the knitted pieces since I haven't done anything like that and they were challenging to get just right.
Any plans for another takeover?
I have some ideas, but this was a lot of work, so I might rest for a while. But yes, I definitely have ideas, lots of ideas.
Stark takes us on a mini tour . . .
'You Charge My Fire' wooden candlestick iPod charger
"It's been my dream to do this for a big event, but buying 650 iPhones kills the dream pretty fast. This was a good chance to try it out on a smaller scale."
Wooden vases
"The wine bottle has been an icon we've often worked with, even with the West Elm collections. It's a shape that means a lot to me. These have glass inserts so they function as vases."
Tool pendant necklaces
"I love the jewelry. The charms are vintage. They're great for males, females, hipsters, not hipsters. They're funny and inexpensive. My favorite is the wooden nickel."
Cloche with nails
"The glass jars are mini museums. We don't normally look at nails as art, it's the thing that builds the art. But they're really quite beautiful."
Cloche with pipe
"A one-off gem; an art piece, reinterpreted."
Wine bottle cozies
"Anyone can take an empty and turn it into a vase with one of these.  I love the idea of re-purposing the bottles from your recycling bin."
Pencil cups and wooden coffee cans
"I really love the way these are formed, with the built up strips. They're made from SmartPly, which is a composite of timber scraps."
Pegboard with tool clocks
"The wall of clocks came about recently. I merged functional décor with an art piece, like in the garage or wood shop, the wall can become an interactive item."
Canvas sandwiches, wood toast
"I love fake food, you know, all that fake food that kids have to play with."
Placemats, napkins, and placecard holders
"On the placemat, the pant pocket is a pouch in which to put the silverware, a wood cube is a name card holder, and the napkins have the cross-stitch details you'd find on painters' pants."
Knitted tools
"I wanted to have something for everyone. These could be for kids, or used as pillows on a living room sofa."
One of our favorite pieces, just in time for Valentine's Day:
Stark also shared his personal favorites with us. Luckily, we toted our Flip to New York. Watch the video:
Visit Haus Interior at 250 Elizabeth St., New York, NY 10012 and David Stark's Wood Shop through February 27, 2012.
Photos by Design Milk and Gustavo Campos.