Design Store(y) hits the West Coast this month to tour Poketo, a design store owned by  husband-and-wife team Ted Vadakan and Angie Myung. Located in the Downtown Los Angeles Arts District, a one-time plight-ridden urban swath that has attracted businesses, like Poketo, that set up shop in 1920s-era warehouses. Let's go inside.
How did you pick this neighborhood and storefront?
We moved into the Arts District in 2007, right around the time things were starting to change. We had a small office that we had begun to outgrow. The neighborhood was changing quickly and we loved the vibe. It's downtown, but has a quaint neighborhood feel; more mellow, but with lots of creative energy. It was fortuitous when we met Tyler Stonebreaker of Creative Space. Creative Space was instrumental in not only acquiring the space for us, but also in the planning and the actual build out. We described our dream space for an office and brick and mortar boutique. When they showed us this space in the Arts District, we knew right away it was the space for us. It's in the heart of the district, with great restaurants and a few complimentary boutiques nearby, and the feeling that this was just the beginning of even more transformation and development.
Tell us about the business, and how it has transformed since you first started?
We work with artists and designers on what we call "art for your everyday." That includes apparel, housewares, stationery, and other daily use items. Our mission is to make high art and design accessible. We started Poketo in 2003. It has changed tons since then. Poketo was an accidental business. It started with an artshow showcasing wallets and has now grown into a full lifestyle brand. We focused our brand online and in other reputable retail stores when we first started. We've grown our collections and team gradually over the years. We now work with hundreds of international artists and designers, along with national collaborations through retail giant, Target.
Where did you get the name for the store?
Our very first product was the artist wallet. We invited our artist friends to create the visual design for the wallet, we threw a party and artshow, and all of the wallets sold out. That's essentially how the business was born. My partner Angie's grandmother is Korean and  used to call the word pocket, "poketo", which is slang for pocket. We love the way it sounded, especially because it related to a where you put your wallet. It just clicked for us. But now, the word really transcends the wallets and applies to the overall brand and what we do.
What other stores have you worked in before opening this one?
This is our first venture into brick and mortar! However, we have been online and in other retail for over nine years. We aim to open more Poketo locations as we grow.
What's your favorite item in the store?
I love our new line of artist-designed sweatshirts and pullovers. They're casual yet artful, which elevates them beyond a regular sweatshirt. And they are all so soft and cozy, which is perfect for the cooler weather that we've been experiencing.
What is this season's theme/inspiration/story?
We're always inspired by nature and the great outdoors, so you will find that many of our products evoke the natural beauty and stillness of the wilderness. You'll see it in our reclaimed wood boards, teak wood coasters, wooden spinning tops, vintage inspired day packs, and collections of natural fragrances that we carry, designed to bottle the essence of the mountains.
What's new this season?
We're really excited about our new kids' section, which we are in the process of expanding. Stocked in the kids' section is our own line of shirts and onesies, in addition to books and artful toys designed to capture the imagination of kids; a departure from the ubiquitous, garish kids toys.
Any undiscovered gems you're particularly excited about?
The Juniper Ridge line of natural fragrances. Based in Oakland, Juniper Ridge harvests wild plant trimmings to extract natural fragrances using pre-industrial perfume techniques, like juice presses and converted whiskey stills. They use the natural fragrances in soaps, colognes, room sprays, essential oils, wildcrafted teas, and incense sticks. We are passionate about this line because the natural process of creating these fragrances is truly a labor of love. We hosted a "Field Lab" with them in December, a mobile distillery where we made a fragrance out of fresh, white sage. It was amazing seeing it done right in front of us, and the people that came to the event were blown away. We'll be doing more events and happenings like this at the store.
What's been a consistent best seller?
Our kitchen linens collection. Created in collaboration with illustrator Kate Bingaman-Burt, they feature her signature whimsical illustrations in three playful designs. This is our first venture into kitchen linens and we will continue the line throughout 2013.
Does the store have its own line? 
We make a wide selection of our own Poketo branded goods, including our signature wallets, apparel, backpacks, and kitchen and office products.
Any recent collaborations?
We recently collaborated with Disney on a limited edition range of Winnie the Pooh wallets, which are designed to be a modern interpretation of a beloved childhood favorite. We had artists think outside of the box of what they are used to with that classic character. It was a lot of fun to take something classic and make it new again. We also collaborated with illustrator Kate Bingaman-Burt on our first line of kitchen linens. We will collaborate with other artists on other collections later this year.
Any special events or exhibits coming up?
Every month since we opened, we have been hosting numerous events, most recently Creative Mornings Los Angeles, which is a monthly morning gathering of creative types. Other noteworthy store events include the Juniper Ridge Field Lab in which there was a live mobile distillation of fresh white sage using a converted whiskey still. We also organized the Type or Treat Halloween letterpress event, where Kyle Durrie of Moveable Type pulled up to the Poketo store in a letterpress truck, printed exclusive letterpress prints and guided people through the process of creating these prints.
We see the Poketo store as not only a retail destination, but, a place for the community to gather and share experiences. Next year, we are looking forward to more artist collaborations and holding more art shows and workshops. We are really going to activate the Poketo store.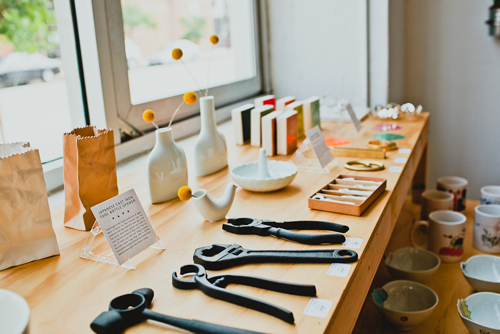 Do you have anything from the store in your own home? 
Absolutely, it wouldn't be the same without. On our kitchen table we have pieces from artist/designer, Linda Hsiao and Eric Trine. I love looking at these every single day.
Poketo is located at 820 E 3rd Street, Los Angeles, CA 90013