Artist and designer Amy Butler, is known for her down home — but never dowdy — textiles from organic bedding and wallpaper to luggage and bags to fabrics, threads, and patterns for the DIYer. She's been sewing since she was seven and got her start making small passport bags out of vintage fabric not long after graduation art school, where she met her husband and business partner David. For this week's Designer Dailies Amy, David, and their four (yes four!) cats, Pete, Birdie, Pip, and Smooch, show us through their day.
5:20 AM: Rise and shine! I sneak out of the bedroom using my iPhone to light the way. There's Pip in his good morning downward dog prepping for his dollop of wet food. Birdie is looking anxious and a little concerned about Pip; nothing unusual here.
5:30 AM: Welcome to my morning ritual. This is my little meditation nest. I grab a cup of coffee, a big soft blanket and usually a cat.
5:35 AM: I hunker down in my blanket and meditate with one of my favorite CDs, "Getting Into the Vortex," by Esther & Jerry Hicks in steady rotation. I meditate for 20 minutes and journal and read for another 10 if I'm on schedule. This has become one of my most loved habits. It really grounds me before I start my day. Oh and you must have the right comfort gear on while meditating. I wear my favorite slippers and socks — circa 1998 Eddie Bauer EB TECH fleece tights. TMI? I know, not too sexy, but I'm warm and comfy!
6:40 AM: Headed to the gym with my gym dandy, Mr. Butler.
8:20 AM: After an hour weight work out, we usually smack around a racquetball for 20 minutes. We go to an "Average Joe's" local gym with warm people, old school style, and great vintage courts. I'm sure you're impressed with my athleticism. I'm going so fast the camera can't keep up with me. (Well, not really, but I'm having a good time!)
8:30 AM: We came home to a beautiful snow scene, the first of the season. It's so quiet and peaceful. After a quick shower, I head to the kitchen for an oatmeal breakfast loaded with healthy, feel-good ingredients.
9 AM: I hit my studio and start to organize for my day. I am placing some well loved textile trappings and pretty ephemera that my dear friend Kim shared with me. I keep a kinetic inspiration display on one of my best loved antique tables. I'm always adding new materials and yummy finds. This is a gorgeous detail of the Indian textile that Kim shared with me. This is all handwork folks, and. truly amazing.
9 AM to 12 PM: I am usually involved in a mix of email, coordination and or design work. Today was a solid three hours of computer time. Too much computer makes Amy a dull girl. It's all good though, and the left part of my brain is very pleased with me right now. Here's a fish eye view of my workspace. I took a mini break and experimented with the mini lenses for my iPhone. Pretty cool!
You might enjoy my Old World handwritten diary! As you can see, my Design Milk interview was a priority. The added Post-it note (on top of the written note that says the same thing) is what I like to call the "double threat." It's just in case I ignore the first note about photographing my day.
12 PM: Lunchtime! I love to eat. Here I am working on my salad fixings. I'm smiling because I know I get to eat soon. I'm making organic romaine, baby spinach, and mini dark chick peas topped with my homemade ginger, garlic, and sesame dressing. It was good and yes, Mr. Butler kept a safe distance after. The raw garlic does a world of great things for your health, but tends to inhibit post-lunch affections.
12:45 PM: I'm back at it in my studio. Now I'm editing my sewing patterns for a couple of hours. Today I needed to switch gears a lot as I need to keep several pieces moving at once. I love designing and editing my sewing patterns; it's like working a crazy complicated puzzle that you can solve with a little love and patience.
2:30 PM: Wow! A surprise delivery from my friend Deven. It's a sweet and welcome thank you gift. She is an extraordinary floral designer and this is one of her creations. Lucky me!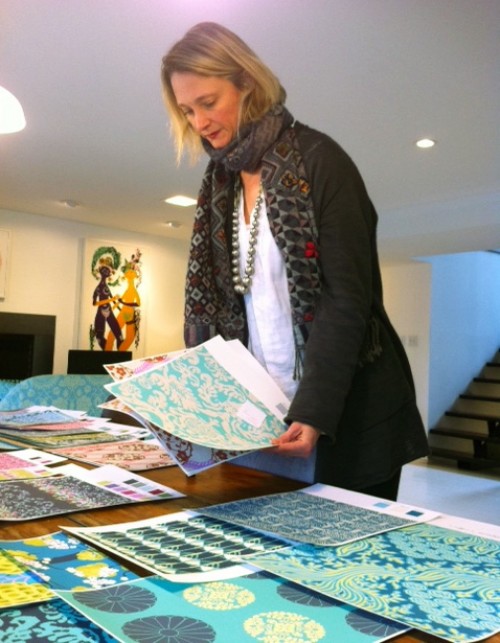 4 PM: I'm breaking away from my edits for a bit to sort through fabric ideas for my next Kalencom bag collection. This is for Spring/Fall 2013. I'm loving the collection so far!
4:15 PM: Someone needs a little afternoon lovin'! I think she's mad at me for not giving her any chicken at lunch. She'll love me when dinner arrives!
5:30 PM: We're out shopping for dinner at our local IGA. Here's Mr. Butler with a green bean mustache!
7 PM: Kevin has arrived for dinner. He is my BFF, second husband, and dearest friend. We love him! Here he's photographing the food. We all cook and share meals together every week. It's our own special extended family. Many nights we have several friends over. If you're free, hungry, and willing, we'd love to have you for dinner too.
7:05 PM: I love the pretty veggie bar!
7:15 PM: Mr. Butler managing the drink department with our Panko bread crumb chicken in the foreground. Delish!
7:30 PM: While the fellas keep busy with their shenanigans I'm manning the yellow squash sauté' with garlic and lemon zest. Yum! Here's the grand finale! It's the perfect end to a perfect evening and interview. Thank you all so much for being with me today! Lots of love and peace to you all!
Thanks, Amy! (and watch out – we might just take you up on the dinner offer!)