Editor's note: "Designer Dailies" is a new regular column in which we follow a designer, artist, or shop owner around for one day. If you are interested in contributing to "Designer Dailies", email us at info [at] design-milk.com.
Today, we follow Ashley Schönknecht, designer at Dwell Magazine, from San Francisco to Los Angeles for the 2009 Dwell on Design conference, held June 26-28, 2009 at the Los Angeles Convention Center. Below, Ashley tells us about her experiences over a few days at the 2009 exhibit [which we were sadly unable to attend this year]. Let's live vicariously through Ashley!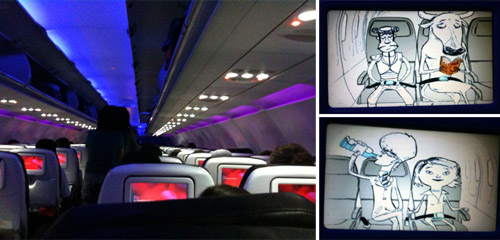 We flew Virgin America down to Los Angeles (we're based in San Francisco) for our Dwell on Design event for which we'd been preparing over this past year.
VA is officially the only way to fly! The club-like lighting is so soothing. No clunky drink carts knocking your elbows as they squeeze down the aisle and the animated safety video is a really creative approach to an otherwise monotonous element of the flying experience. My coworkers and I seat-to-seat chatted the whole way. Old school AOL chat room style. Awesome.
If there's one thing I appreciate as much as good design, it's great food (and coffee). When the two are married, it's nearly irresistible. Upon our arrival in LA, we walked over to Bottega Louie for some lunch snacks from their gourmet market and patisserie. The enormous space, with marble floors, café tables and expansive, bare white walls, transported us to Paris, while the food was decidedly Italian. It was so enchanting, we resolved to make a reappearance for dinner.
After lunch, I headed over to the LA Convention Center—the heart of Dwell on Design. While the exhibitors were busy building their booths and other elements of the show were taking shape, I took a moment to walk around and check on how things were coming together on the design end.
The signage, website and other materials for this year's Dwell on Design event featured abstract illustrations by Siggi Eggertsson. They were commissioned by Dwell to represent the various components of the event: Conference, Exhibition, Home Tours and Special Events.
Design Director Kyle Blue, Senior Designer Brendan Callahan and I joined forces over the course of Dwell on Design to judge a design competition for coolcapitals.com, presented by Wacom.
Competitors were given a messenger bag template and inspiration files and asked to create a design in 30 minutes using the Wacom Cintiq (a really neat product). Designs had to illustrate the unique characteristics of the cities represented by coolcapitals: Amsterdam, Antwerp, Valencia, Vienna and Zürich. The competition is open until July 27th. For more info check out dwell.com/cool-bags.
There were a lot of great exhibitors at the event, and to no one's surprise, plenty of sustainable design stories. A few things that stood out as I was zipping about the show floor included (clockwise from top left):
This gorgeous pink carpet from Amadi Carpets. It's composed of pieces of oriental carpets that were otherwise tattered. The usable pieces have been sewn together in a patchwork manner and redyed to create a completely new look.
The Kitchen Ecology exhibit, curated by DesignBoom was an impressive collection of thought-provoking and "smart" designs. My eye was drawn to these TransNeomatic Bowls made from repurposed scooter tires and wicker, by the Campana brothers for Artecnica's Design with Conscience line. The combination of materials and textures felt really innovative and speaks to the relationship between more modern materials/technology and traditional crafts.
The Reclaimed Space 400sf portable living space made from reclaimed materials and decorated by EcoFabulous.com was a huge hit. Almost all of the furnishings were sourced from eBay and the home was auctioned, with half of the proceeds going to Habitat for Humanity LA.
These modular Woolly Pocket Gardens were another favorite. The handmade pockets are designed to either hang from the wall or simply sit on horizontal surfaces, with plants nestled within. The felt-like material is made from recycled plastic bottles.
Just so you get a reality check, the event was not all about dining out and frolicking about the show floor looking at beautiful product! I spent a few too many hours of my life at FedEx Kinko's trying to get some last-minute jobs printed, made several crazed trips to Staples and almost lost my mind and gained 10lbs in the "behind-the-scenes" madness!
There were definitely some good times though. I had the opportunity to go out to visit some of the homes on our home tours around LA and nearly moved in to a couple of them…
One of the homes in the Silver Lake neighborhood, offered views of downtown Los Angeles from one side and of the Hollywood Hills from the other. Barbara Bestor was the architect on this "remodel", which capitalized on the openness and flow between interior and exterior spaces. Wendy Park did the interior design.
Here's a Venice home by Marc Bricault. Features a living wall (fed by the home's grey water system) that ties together the courtyard greenery with that of the roof. A gorgeous sculptural staircase leads up to the penthouse deck.
Casa Cuadrada, home of architect Tom Marble and artist Pae White, is extraordinary. Eclectic details added by White enhance every room. A central courtyard offers seamless integration of natural light and air.
Here's a sample cover and interior spread from the Home Tours brochures I designed. I originally designed the "HT" logo mark and design language for our Home Tours in Brooklyn this past Spring (in partnership with BKLYN Designs), keeping in mind that it should be flexible enough to work with future Home Tours in other cities.
The brochure covers all feature different maps, with the "HT" mark placed at varying angles, etc. according to how it fits on intersections in the map.
A long day ended on a high note with treats from the vendors at our Square Meal Mobile Restaurant Row. I tested the cinnamon ice cream with ginger cookie sandwich with edible wrapper from Coolhaus—the architecturally inspired ice cream sandwich makers! Tasty!
Thanks, Ashley!

Design From Around The Web