David Scott is Director, or "the brain" behind DESU Design, a Brooklyn-based furniture design company. He began designing furniture at the age of 18 as means of improving life in a dorm room. He spent some time in Japan and studying architecture at the Southern California Institute of Architecture. DESU was born in the wee hours while David was in LA working with other architects.  After moving to New York, his vision for DESU was able to grow and hasn't stopped since. You might recognize DESU's Symbol coatrack design, which has been featured on many blogs (and you know how I love coatracks!).
David sent us one of his days while working the booth at the New York International Gift Fair, earlier this year. Let's follow David around!
I wake up around 5:45 AM, and am up and moving around 6:00 AM. I live in a big open loft space with my wife Emily and 1-year-old son Ryder.  My mother-in-law is in town, lending a hand with Ryder because it's going to be a busy week at the International Gift Fair. That is her on DESU's LR-1 sofa… works great as an overnight guest bed. Ryder is still asleep, completely zonked.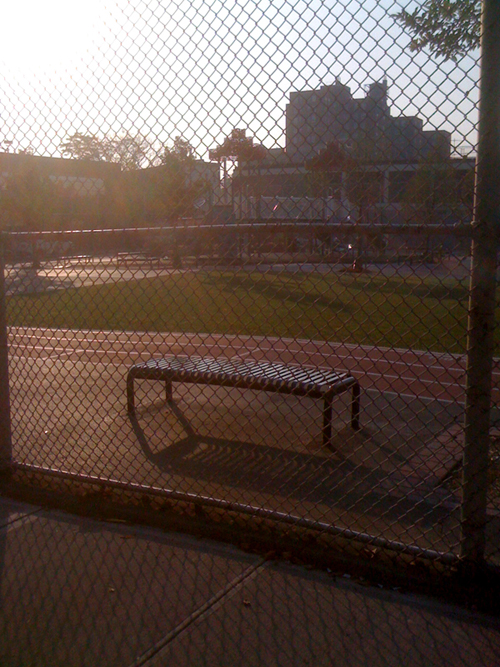 Normally I eat breakfast at home and spend some time with the family before I head out. However, today is a busy day, so I skip out on breakfast and pick it up on the drive to work. The sun is just coming up over Red Hook, Brooklyn, warming the playground. I head to my favorite local coffee shop and bakery, aptly called Baked, a cool place designed by Hivemindesign. They make the best scones I've ever had. They opened it up right in front of a bus stop. Smart.
I make it to the shop by 7:30. My desk, as usual, is piled up with various projects. The studio is on the fourth floor, above the ground floor shop space DESU rents. I have to get the day organized for the guys who work in the shop, as I will be out most of the day at the Gift Fair.
The shop is buzzing as I make my way in. Things are progressing on an architectural project we are fabricating, a memorial wall for a Jewish Temple, and some furniture pieces that have recently been ordered. Finally, the boys are set up for the day and I'm off to the convention center.
I arrive about 9:40 AM, for a photo shoot scheduled at 9:45. We were awarded Excellence in Product Design for our Pendulum Door Knocker. There are several other show participants being honored for their various achievements. The photoshoot is a group shot of all of us, and it wraps up around 10 AM.
Here is an image of the award, which I'm told was designed by Karim Rashid. It does double duty as the Gift Fair's Accent On Design logo. It's basically a squished Mobius strip, powder coated a glow-in-the-dark chartreuse.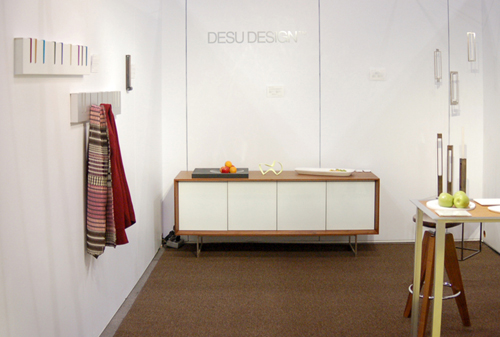 10:30 AM. There is a long stretch here working the gift show. Usually manning a trade show booth is a combination of real enjoyment levied with stretches of eventless boredom. It gives one a glimpse into what it must be like to be a caged zoo animal, where you have 3 walls of scenery that never change and a framed view of a filmstrip of passersby. The only difference in a trade show is that you can occasionally wander out for an overpriced cup of convention center coffee.
Throughout the day, a lot of people stop by and talk to us, asking where DESU Design is based. They seem surprised to find out we're located right here in Brooklyn. Several people comment about how the design aesthetic reminds them of something Scandinavian or Japanese. It has a certain ring of truth — I did spend some time in Japan designing nightclubs, and some of the design elements definitely influenced me.
6:00 PM. The show is closed for the day, and I head back to Brooklyn on the train. It's nice out so I go back to the office and change into running gear, and head out for a run.
7:45 PM and I'm on my way home. Ryder is still up and I'm happy to see him before he goes to sleep. I eat what's available, and do some more work on the laptop before going to bed.
10:00 PM. Bedtime.
Thanks, David!

Design From Around The Web