Emma Henderson started Showpony in 2006 to showcase her screen-printed home and personal accessories.  Showpony consists of a website, 2 Etsy shops, and a blog, all owned and operated by Emma, a woman after my own heart. Let's follow her around, shall we?
Its 6:50 AM and I've gradually become aware that the alarm is going off –- we use the radio as an alarm so sometimes rather than waking up I just have odd dreams about swine flu and Michael Jackson. I vaguely remember Michael saying something about going for a run before work, but we both know this isn't going to happen so the alarm is dually ignored for another 40 minutes. Realizing he's about to be late for work, Michael throws himself out of bed and gets into the shower, he is replaced by the dog so I carry on snoozing until he's out. Around 8:00 I get up, shower, feed the dog and have some toast.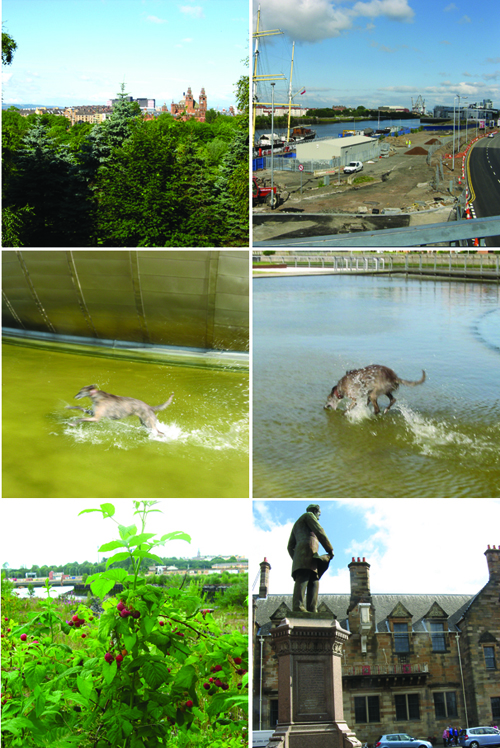 By about 8:30 were ready to go, its not raining so we're walking to the studio today, our walk takes about an hour and starts off with a nice lap of Kelvingrove park [arguably one of Glasgow's finest green spaces] and luckily for us right on our doorstep. After this our rout takes us over the express way, taking one of the foot bridges over the Clyde and past the new BBC, science center and IMAX, this is Kippen's favorite part, she tears around in the water feature [moat?] and has a bit of a mad moment on the stretch of grass next to it. Once calmed down and both considerably wetter we continue towards Govan. I check in on some wild raspberries I found last week and we arrive in Govan at around 9.30, Kippen begs a biscuit off Clare at reception and we head up to the studio.
[the view from my desk of Rachael's side of the studio]
I moved into this studio in February this year and share it with Rachael who runs Hannah Zakari. Before this we both worked from our homes and find that having workspace away from the flat is fantastic. Home is home again and work feels a bit more like work [which is a good thing].
The first thing I do is put the computer on and settle down to check emails and go through orders. I'm really lucky to have a fabulous summer intern at the moment, Heather, so she gets started sewing up some hot dogs and I get on with a commission for a wedding present. Some personalized napkins.
I start by sewing the napkin seams, then printing the illustration on the top and bottom corners, they are then left to dry and finally heat cured in my conveyor dryer.
Its about 1:00 and our tummies are rumbling so it must be time for lunch. We take the dog out and head down to the Clydeside, from here we get a great view of the construction of Glasgow's new riverside museum. I like to keep and eye on their progress and check for any signs of a bridge over to this side of the Clyde, this would cut my walk by at least 30 minutes. Nothing to report yet, but I will live in hope.
After our walk its time for lunch, today its pasta leftovers from last night, while munching on this I check through some of my favorite blogs, see what's happening on Twitter and do some fantasy shopping. Today it's this necklace from Desire Lines, anything from the Toast summer sale, and the daily search for the perfect patterned Formica kitchen table on eBay.
By now it's around 2 PM and its time to get some more printing done.
We're printing up some fabric pieces to make cushions and bags from for my new range, while waiting for the fabric to dry. Heather sets off for the post office and I get started on making some cushion inserts up. These contain organic wool balls making a really sustainable filling I'm so excited about these.
Soon it's 5:00 and time for home. While Heather heads off I get distracted by some blogs and emails and its 6:00 by the time I lock up and head home.
Heading through the park on the way back we bump into some dog walking pals. These are the people who you get talking to in the park who's dog yours plays with, while you may know everything about their dog, its entire medical history and any silly things its done you may not even know the owner's name. However we hang around chatting and laughing at the dogs for ages and before I know it its nearly 8:00 and I'm starving. Back at the flat I'm greeted by my husband who jokes about sending out search and rescue, even though he knows how hard it can be to get through the park without getting involved in at least a couple of conversations. I quickly grab some more toast, make a mental note to eat better tomorrow and dash off to meet a friend for a drink.
I have a good giggle with my friend over a bottle of wine and some rather delicious spicy almonds we don't stay out too long though. Around 10:00 I get home, catch up with Michael and continue painting a sign I started for Father's Day [now at least a month late] dad's become slightly obsessed with his asparagus plants lately and I can't wait to see this in his veggie patch.
I'll sand it a bit more tomorrow to distress it a little but that's enough for today. At 11:30, Michael takes the dog out for a final walk and I get ready for bed.
Thanks, Emma!