A former national arts magazine editor and freelance writer with a degree in literature, Jeni Tu studied Industrial Design at Pratt Institute in Brooklyn, finished her degree in San Francisco at California College of the Arts, and re-launched her career as a furniture and product designer. Tu lends us the details of a busy day for this month's Designer Dailies.
For many designers who do furniture or housewares, the entire year can feel like a build-up to the frenzy of the May and June furniture shows—Milan, ICFF, NeoCon. This year was no different: After debuting two chairs at ICFF, my brother Kaii, a fellow designer, and I accompanied our pieces to NeoCon, the furniture show held every year in Chicago's historic Merchandise Mart, where they were shown as part of the Materials Pavilion. This is the story of my June 12th, the jam-packed day we left Chicago and flew back to San Francisco to catch the opening of SF Local Design Market, another show we participated in.
6:30 AM: Time to get up. Yikes. First order of business: trying to cram everything I collected at NeoCon into my tiny suitcase. I like to think there were freebie bags I didn't take, but judging by this photo, that doesn't seem to be the case. Didn't say no to the teddy bear, either.
7:15 AM: Next, I email my metal fabricators in California with finishing instructions for the next chair they're making for me. The first version is the one at NeoCon; this one I plan to experiment on a bit, maybe with a different surface treatment and colors. I know they start work at 7 AM, so with the time difference, it's important to get in touch right away.
8:05 AM: Before leaving the River North apartment of our gracious hosts (Jean and Aaron, two of Kaii's friends), I make sure to snap a few pics of their amazing view. Architecture and the built environment are major inspirations for me.
8:40 AM: This being only my second trip to Chicago, and my first one in ten years, we make a quick early-morning detour to the world-famous "Bean," aka Anish Kapoor's Cloud Gate.
9:15 AM: A short 'L' ride later, we are at Merchandise Mart. It's difficult to convey how mind-bogglingly massive NeoCon is — there are 14 floors of showrooms and exhibition booths (14!), and the lines just to get into the elevators are daunting.
9:25 AM: This is my Linea Chair, at the front of the Materials Pavilion. It's made of powder coated bent steel wrapped in heat-bent laminate. With this piece, I wanted to explore the physical possibilities of laminate, a material better known as flat surfacing for kitchen countertops and school desks. The twisting form and neon red-orange also pay homage to the freeways of LA, a city I find fascinating.
9:45 AM: Check out this aluminum foam. I'm making a last round perusing the new material samples in the Materials Pavilion and chatting with some of the vendors again. 3D laminate, translucent concrete, powder coated wood and eco-neoprene — what could I make with this stuff? As a designer, I'm constantly on the lookout for unusual materials to play with — it was a starting point for Linea, after all — so this is like being a kid in a candy store.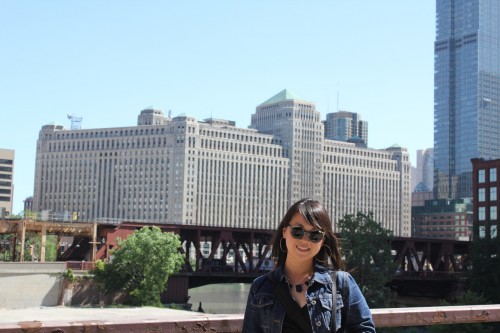 9:55 AM: Time to go to the airport. With suitcases in tow, we head to the blue line to catch the train to O'Hare. Merchandise Mart is in the background here — bye for now!
2:50 PM: Touchdown at SFO. Haven't gotten a lot of sleep in the last month, so I was in a coma on the plane. Technically there's time to take the BART home, but we splurge on a cab.
3:45 PM: Back home (Kaii and I are the rare siblings who share a profession . . . and live together), I change clothes and fix my version of a salad nicoise with avocado. Makes me feel very Californian.
5:30 PM: In a rush, we end up hailing a cab to Zinc Details, the Fillmore Street home goods store that is playing host to the Design Market, a showcase of local work that is part of San Francisco Design Week.
6:10 pm: Several friends are kind enough to show up and say hello, but I barely get to talk to them amid the hubbub. Vow to catch up with them later.
7:30 AM: Tonight I am showing two pieces, Metro Glasses, and Matchmaker. In different ways, both show my love of patterns. Metro Glasses are a set of four etched glasses that tell the story of urban sprawl in Southern California. Each one is a snapshot of SoCal in a different decade — 1970, 1980, 1990, and 2000 — based on real census maps. I'm fascinated by how human behavior leaves visual patterns that transform over time. Matchmaker is a handcrafted wooden game I like to call "Scrabble meets dominoes," with a mid-century influence. It's fun, and harder than you think.
9:20 PM: More than an hour after the event is over, Kaii and I finally peel ourselves away for a late dinner with our friend and fellow designer Rosalie Wild at Pizzeria Delfina, just up the street. Margherita pizza, little gems salad and good company — what better way to end a busy day?
Thanks, Jeni!