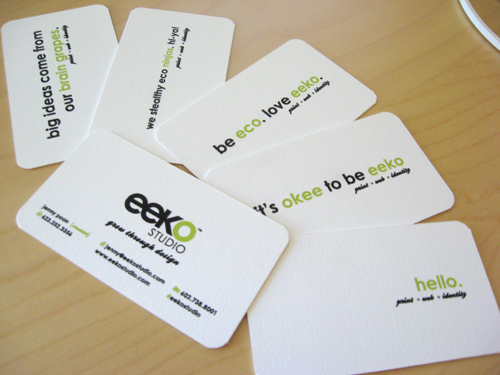 Jenny Poon runs eeko studio, an eco design and branding boutique. It began with one little idea — do something more. She is sharing a recent Saturday during the Green Build Conference in Phoenix.
6:30 AM: Wake. I kick the husband out of bed first because it seems easier to get up when someone else is up already. I close my eyes for a few more minutes to try to catch a few more minutes of sleep. The faucet turns on and the husband comes over and brings me my toothbrush. Time to get up. I try to brush my teeth with my eyes closed while still laying in bed. No luck. I'll have to wash the toothpaste off my pillowcase tonight. I go to my box where to remember to grab my wedding ring.
7:00 AM: Get Dressed. Put on some clothes, tie my hair back quickly, hook a couple of bobby pins on my shirt for later use and head downstairs. The husband and I are driving separate today because he has sports games to cover later in the day. He is a sports writer. We set the alarm and hustle out of the house. Hugs and kisses and we're off to tree planting and beautifying the city.
7:35 AM: The Ride. I hop on my scooter named "big boi". He is a small retro looking scooter that has a bad attitude and the macho trucks fear him as he snarls past.
7:45 AM: The Ride (part deux). I stop at a few lights and snap some pics of the beautiful morning for ya. You're welcome.
8:00 AM: Downtown. We arrive downtown on Roosevelt Street, check in, grab some chocolate chip granola bars and head over to see Phoenix Mayor Phil Gordon speak. He placed the tree into the very fine hole he dug and began shoveling dirt to fill it in. Now our turn.
8:30 AM: Gear. Husband and I get our gear. I'm armed with a shovel, some gloves and energy. One of which I know how to use well. According to the map, we're headed to Latham Street to plant our tree. It will be the most beautiful tree this world will ever see.
9:00 AM: Tree Planting. We start digging holes, prying off the boxes from the tree soil, "teasing" the roots and plating them into the painful hole we dug. Somehow, our tree planting was not as graceful as the Mayors. In the process we somehow bust a water line, uncover a humongous root from a previous tree and fill my shoe with dirt. I have named my tree Senior Manny, must be said with a Spanish accent or you will disgrace the name. We finish up on a couple other trees and the volunteer group and I head to the Phoenix Farmers Market. The husband takes off to do "real" work.
12 PM: Food. head to the Phoenix Public Market to pick up a ham sandwich, an apple and a cookie. Love the design of the Public Market!
12:30 PM: Clients. After the quick lunch, I walk outside to the weekly farmer's market going on. Quick stops at the Lotus Wei booths to see my wacky clients Katie Hess and Lisa Reinhardt who own organic skin care and organic chocolate shops.
1:00 PM: Shopping. I walk around the Phoenix Farmer's Market. We mosey on through the tents to see different vendors selling fun local things.
2:00 PM: The Return. Jump back on scooter head home.
2:30 PM: Damage Control. I arrive home to see I had missed a call from Mark, a client, who had left me a message saying he was having a computer emergency. I grab a glass of water throw in a straw because straws are fun and give him a call back. I walked him through some steps to solve the problem.
3:00 PM: Work, yes, even on a Saturday. I sit down to do some design work that I wanted to get done by Monday and would need to do this weekend since I have meetings on with clients on Monday. This includes working on ideas for a couple wedding invitation orders, printing and cutting down a quick run of business cards for myself for tonight, work on a step and repeat for a client, update blog posts, Twitter and Facebook messages. Take a few minutes out to use the sling shot to throw stuff in the recycling bin. Score!
7:00 PM: Green Streets. Time to get ready to head out for evening fun. Back to Phoenix for the Green Streets Festival, a "block party" event that celebrates local green businesses, held in conjunction with the 2009 Green Build Conference this week. This time I took the car (wah wah) because was picking up my friend Mimi. (Sorry the pics get blurry here because I forgot my camera and had to use the phone camera.) There we saw an amazing upcycled container company, met up with another designer friend and peddled a bicycle to show the difference in energy between a regular lightbulb and CFL bulb.
10:00 PM: Food. Passed a compost sign and got some food. Then headed home.
10:30 PM: Swag. I get home a few minutes after husband returns home from his sports game. We hug and talk about our day. The game for him and how much fun green streets was for me. I showed him the range of things I got from the evening of events.
11:00 PM: Read. Change out of my clothes and and get ready for bed.
11:30 PM: Movies. We switch it up tonight and decide to move our bed to our theater room and do a "Band of Brothers" marathon.
Thanks, Jenny!