Michelle Jennings Wiebe, ASID, is the President/Founder/Principal Designer of the premier interior design firm Studio M Inc., based in Tampa, Florida. Studio M thrives on taking any space and transforming it into both living artistry and functional desirability. Her passion for interiors is to "develop livable works of art that are timeless." Her portfolio of almost two decades includes hundreds of residential and commercial projects, in both fresh traditional styles and chic contemporary styles.
Passionate about design, she looks forward to exploring further interior design work on an international level. Michelle also has begun some preliminary designs on her own product line.
6:30 AM: Arise to my two sons, Cameron and Carson hopping in bed; they want to discuss their Halloween costumes. Toddler Cadyn is still sleeping. Take boys to bus stop, followed by a wonderful power walk on this autumn morning. It is unusually hot and humid for this time of year, though. Shower, dress, and then tweet and return emails from home office.
9:30 AM: Arrive at studio. Office Manager Coraly Castellanos greets me with her wonderful smile — waiting outside to take a photo of me! She is always on top of things, the best there is!
9:45 AM: My husband and business partner, Tom, is meeting with a prospective intern, Lissette Cortes in our conference room. I join the meeting to review her portfolio. Tom continues with meeting. (We did hire her for an internship, which will begin in January!)
10:30 AM: Select furniture for client's home in our resource library.
12:30 PM: Meet with two of our designers (Lauren Michalak and Liz Grina) on a project in their private office.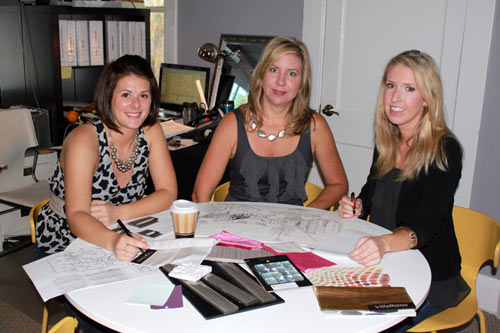 1:30 PM: Read and approve today's design blog post! Check us out!
2:00 PM: Lunch with our Director of Marketing Eric Miller at El Puerto in Ybor City.
3:00 PM: At his studio, I meet with Alberto Murillo, an artist who has been commissioned by our firm to create two custom pieces of artwork. I went to approve them for our client, before he adds the glossy resin coat. I am very pleased and call the client to say so.
4:00 PM: I drive back to our studio and meet with a prospective client, who is building a new house on a lake. We get along great, so I hope we get to work together!
5:30 PM: Arrive at Signature Place in downtown St. Petersburg for "Gallery Night of Design," which we are hosting. Our entire staff is there, along with 30 guests. We show some fabulous new products, serve wine and cheese, and mingle!
8:00 PM: Staff goes to dinner at the delicious St. Petersburg favorite — Red Mesa, which was a lot of fun!
11:30 PM: Drift off to sleep with next week's business trip to NYC and Denver on my mind…
Thanks, Michelle!
Check out the Designer Dailies archives right here.