Meet Blair Preitz: a current industrial design and German student at Rochester Institute of Technology (RIT) in Rochester, NY, who is just finishing up his final year before moving on into the design world. Growing up with a father in the Air Force, much of his upbringing was in various places around the world – from Germany to the UK, then to Japan, and eventually California, and finally on to Rochester, so he has lots of places from which to draw inspiration. He has been so kind as to let us peek into an average day in his life at design school – I'll let Blair take it from here:
My day starts out with my alarm waking me up at 7:00 AM. Well, sort of… I go back to sleep for an extra 30 minutes or so. By then my phone alarm goes off. By then, I'm fully ready to get out of bed and take on the day.
My typical morning routine is always the same. Like clockwork I shower, get dressed, make a lunch, pack up my supplies for the day, eat breakfast, and lastly read through my emails and scour a few blogs for anything new and interesting.
Seeing the time slip by I gather my bags and head out the door to catch the 8:45 bus to campus. Even though it's a short ride to campus I use this time to collect my thoughts about what I want to accomplish for the day.
When I reach campus, I usually walk straight to class. However, today I decided to relax and take my time. Sunny days in Rochester are hard to come by in the winter and after almost 4 years at RIT, the brick campus has grown on me. I don't know what it is, maybe it's sunny mornings like these that can make it so beautiful even in the bleak of winter.
By 8:50, I've reached the top floor of the art building, this is where the Industrial Design department is located. Here you see the senior side of the studio where I do most of my work. It's a bit messy because most of us have project deadlines that are coming up.
By 9 AM, Metaproject class begins, professor Josh Owen makes his rounds, speaking individually about our progress on our prototype models. This class isn't any typical class I've had at RIT. It's two quarters long where we work with a company to produce design concepts using certain materials that the company uses. Three years ago, when it started, students worked with a company called Wilsonart International to produce furniture that had to incorporate the company's laminate material in some new and interesting way, last year's students worked with world-renowned Corning Museum of Glass to explore design concepts that take advantage of glass as the primary material, and this year we are working with a Brooklyn based company called AREAWARE to produce universal wooden toys that we will present in front of a panel of judges from AREAWARE, who will decide which ones they would like to produce.
After an intensely productive 3 hours I sit down and catch my breath. Feeling hungry and I pull out my packed lunch. Today I'm having a PB&J sandwich, German peanut chips (which are awesome), and an apple—simple yet delicious.
After lunch my friend Dave and I decide to get some coffee at Java's, which is located in the school's library. We sit down for a chat and catch up on some sketch work before our next class.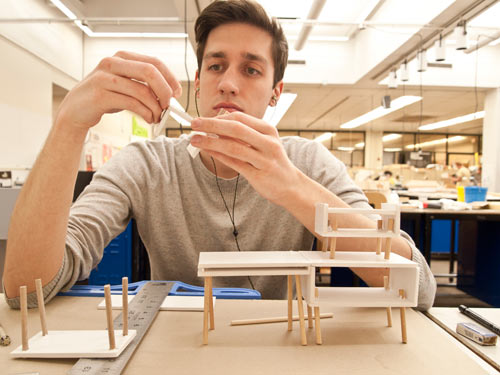 Feeling refreshed, I go back to the studio at 2:00 PM to attend my furniture class taught by professor Stan Rickel. We are designing furniture for a New York City based furniture company called Lazzoni. The challenge is to design furniture for urban dwellings which are multipurpose, transportable, cost effective, and most importantly focused around the user.
After Furniture class, I go back to working on my Metaprroject. I'm making silicone rubber parts that will be part of my final prototype. I've asked Pat, who is one of the model making professors to help troubleshoot an issue I'm having with my rubber parts. After thinking it through, I believe we solved it!
Around 9 PM, I decide after 12 hours in the studio that it's time to go home and make dinner. I make my way to Gleason Circle with Nick to catch the 9:10 PM bus home. We pass through the Infinity Quad, named after this sculpture designed by Jose' de Rivera in 1968. If you stand still long enough and is windy enough, you can see the moebius strip slowly spin.
It wasn't cold tonight so we hung outside the heated bus stop inclosure. We part ways when my bus arrived.
When I get home, I waste no time to make dinner. Since it's getting late I want something quick and simple: sauteed vegetables with black bean tofu and cashews in a teriyaki sauce. It was delicious.
After dinner, I sit down at my desk to modify and review my presentation I have for my German class tomorrow.
11:30 PM: Before bed and if my roommates are still up, I like to play my Sanshin which I picked up while living in Okinawa for 4 years. It helps me to relax and unwind after a long and crazy day. After an hour of practice, I go on the computer one last time, do some Facebooking and check out some design blogs, before long I'm too tired to focus on the screen, so I decide to hit the hay.
Thanks Blair!