It's likely some of you out there are planning to gift someone special…someone very special…with an Apple iPad Pro this holiday season. Designers and artists will be especially smitten with the 12.9-inch Retina display and the compatible Apple Pencil, a formidable creativity tools pairing optimized for sketching, photo retouching, designing, and digital painting. Our own time with the iPad Pro reawakened a latent affinity for sketching in bed, a credit to the Apple Pencil's intuitive and comfortable design. The fact the iPad Pro is also the best Netflix in bed viewing device is a bonus. But we digress. Here are some of the best apps optimized for the iPad Pro you'll want to know as giver or recipient of the newest iPad: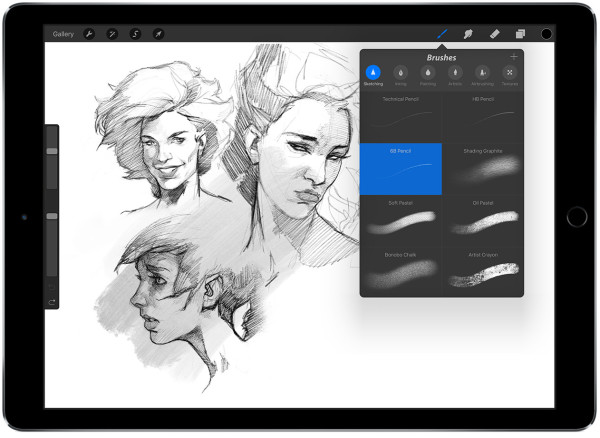 Procreate: ($5.99)
If there's any app we'd personally recommend loading onto the iPad Pro out of the box for a designer or artist, it's Procreate. Optimized for the iPad Pro and Apple Pencil, palettes and tools options are deep and welcome creative experimentation; like chess, it's an app easy to start, but a more long term investment to master. This is as close as we've felt working with physical mediums in a studio environment on any tablet, every tool and medium responsive and satisfyingly manipulative like their real world counterpart. And with the app's support for 4k canvases on the iPad Pro and an optimized 64-bit painting engine, it's the app which most impressed artists to consider shifting over from a Wacom Cintiq to an iPad Pro.
Paper (Free)
Developer FiftyThree describes their iPad Pro optimized app as designed to capture and connect notes, photos, and sketches. And indeed, the app reminds us of a Moleskine notebook in its utility and skeuomorphic sketchbook interface. It's perfect for doodling an idea down real quick and the ability to organize notes and drawings into an idea/inspiration board layout is helpful for designers working in the ideation or storyboarding phase.
Adobe Illustrator Draw (Free)
If you're a designer or illustrator already invested in the Adobe Creative Cloud workflow, this vector based free-hand drawing app is handy to keep installed on the iPad Pro for early sketching to push later to desktop applications for polished detailing. With stylus and Apple Pencil support, layers, a cool multi-gesture digital ruler tool to draw perfect basic shapes, a tracing feature, it's easy to imagine working with the iPad Pro outside of a studio environment, then later finishing up an illustration in Photoshop CC or Illustrator CC, then finally pushing the final product to Adobe's Behance portfolio network, a feature baked into the app.
Fontbook ($4.99)
I can still remember when I used to keep a copy of FontShop's printed and bound FontBook for reference when I was art directing magazines and packaging. Now instead of lugging around a hefty sized book, the entire collection of 145 type foundaries is listed by name, designer and style. Incredible.
Autodesk Graphic ($8.99)
Indeeo was recently acquired by 3D and engineering software giant, Autodesk, upgrading the smaller company's previous iDraw app into a fuller featured vector-based app. In this updated iteration, the app is even better suited for designers looking for technical illustrations and logo design creation tools. Layers, shape tools, opacity adjustment, import and export from SVG, PDF and Photoshop PSD documents makes Graphic easy to add into any vector design workflow.
Astropad ($19.99)
Astropad isn't a graphics app, but instead a very powerful utility which converts the iPad Pro (or iPad Air 2) into an extension of an OS X compute. Designed to work over Wi-Fi or USB, the iPad Pro mirrors the main computer display accurately with full-featured input. So instead of having to switch to a lesser featured iOS version of Adobe Photoshop, Illustrator, Lightroom, Corel Painter, Manga Studio, or Pixelmator, Astropad permits users to work directly with desktop applications using the iPad Pro. Photo editing and drawing performance is rated at up to 60fps, with response times as low as 12ms, addressing the usual complaint of lag. With compatibility across an array of stylus brands, you might even end up ditching the mouse.
Pixelmator ($4.99)
Pixelmator is a very capable photo editing desktop application; in fact, it's the OS X application I steer people to when they're looking for an Adobe Photoshop alternative. As an iOS application designed for quick and easy photo editing and retouching for iPad Pro users, it's equally recommendable. Although capable when used for digital painting, Pixelmator really excels for photographic retouching projects, able to handle files up to 50 megapixels with notable responsiveness. For anyone who needs to send comps or retouch a photo before uploading to Instagram regularly, take note, this app excels beyond filters by offering clone, distort, layering, smoothing, color correction tools. Another plus: the app's UI is especially clean and uncluttered, making good use of the Retina display's screen real estate by hiding away menus and palettes until called up. Pixelmator is the best photo editing app available to day on any iOS device.
Tayasui Sketches (Free)
Tayasui Sketches might be the most cheerful-looking drawing app for the iPad Pro, presenting a small selection of artist tools with an appealing, near-cartoonish style. The digital equivalents of a Pencil, Rotring, Watercolor brush, Felt Pen, Eraser, Airbrush, Oil pastel, Acrylic brush, and Pen brush are rendered as a skeuomorphic tool palette on the left side of the screen (which can be hidden away for distraction-free work mode) and optimized for horizontal orientation. Various gesture controls integrated into the app allow for undo, browse, zoom, and move features to be accessed with the finger and thumb. All in all Tayasui Sketches is a very capable alternative to Paper for sketching for artists seeking a very minimal user interface.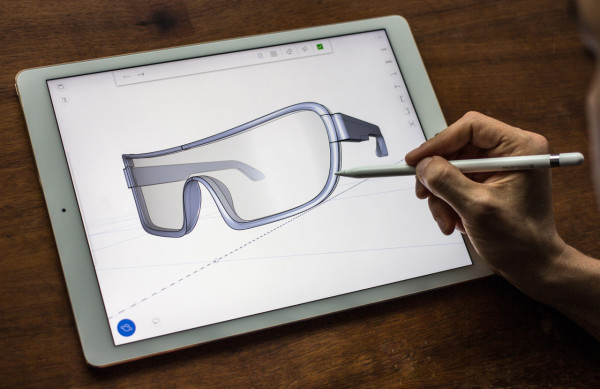 uMake (Free)
Weeks back I got an early peek at uMake's 3D design capabilities using the iPad Pro's improved hardware, and what impressed me most was how quick and easy it was to extract 3D forms from quick 2D doodles. In professional hands uMake allows artists normally used to working in a 2D canvas to naturally manipulate lines in a 3D space; in practice 3D sketching and modeling becomes an intuitive experience accessed via Apple Pencil or other stylus, turning flat lines into 3D shapes that could be stretched, squeeze, duplicated, and resized. One important note is this app requires a monthly or annual subscription to unlock the full array of features. That said, the free version is good enough to dip the toes to determine whether the benefits of 3D modeling on the iPad Pro is worth the extra investment.
And, don't forget that you can get some of Morpholio's great apps for iPad Pro, too!