Over the past 4 years London-based design studio Featuring-Featuring has invited creatives to a 15 acre campsite to turn an oxymoron* – Designers On Holiday – into an communal experience revolving around collaboration.
DOH founders Tom Gottelier and Bobby Peterson's aspirations for their annual event purports to bring a global group to "collaborate and experiment with different ways of designing and building elements of living." Think glamping, but with next level activities involving craft, cooking, and DIY architecture.
One look at their Instagram and it's obvious though the tent and microcabin accommodations set up on a permanent 15 acre plot on the Swedish island of Gotland may be tight and cozy, the amenities made available to campers definitely keep the experience safely on the other side of roughing it.
This year's DOH introduced new standard issue cabins designed for solo or couples in attendance, micro shelters constructed with plywood and treated 70x70mm timber, with a ripstop nylon door.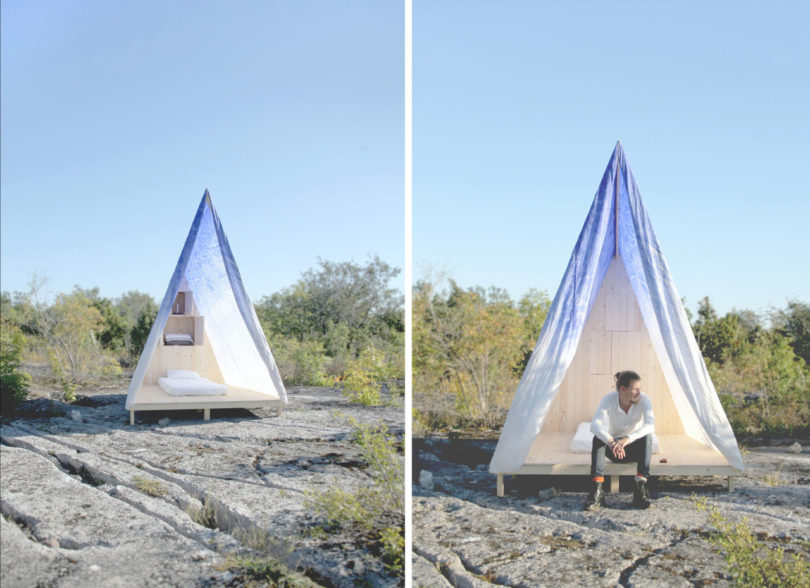 Previous years included a "symbiotic hot tub, luxury outdoor showers, a wood fired bread oven, a one man sauna, a 10 man sauna, a terracotta kiln, a viewing platform, an observation platform, a waxed cotton sailing boat, a herbal distillery, a sound instillation, a woodland cinema, a camp flag, a loom, soap made from the local flora, paint pigments made from the land, many a wonderful dinners, loads ceramics and countless hand-carved spoons." Sounds like an inviting opportunity to enjoy the pleasures of camping without sacrificing too many comforts.
Those interested in participating in the next Designers On Holiday are invited to apply here.
* An "oxymoron" because designers are always working, even on holiday.