The following post is brought to you by Argentario Resort. Our partners are hand-picked by the Design Milk team because they represent the best in design.
This month Destination Design travels to the Argentario Resort in Tuscany. While you likely immediately equate that area of Italy with vineyard hopping, the Argentario also offers a gorgeous golf course, pool, and spa. Even better, it's actually situated on a peninsula, surrounded by Mediterranean beaches. The definition of heaven. But still do try to fit in jaunts to nearby Pisa and Sienna for sightseeing. It's really the best of both worlds, from history to contemporary cool. The resort architecture itself, as dictated by property owner Augusto Orsini to designer Andrea Fogli, is "new and fresh" in order to showcase the region's more "progressive" nature.
Plenty of natural light shines through the hall's large glass windows. It's modern day Tuscany for sure.
Locker Cottage is a brand new, independent 3-bedroom villa located on a hill that overlooks the golf course and is surrounded by an olive-tree garden. The warm and homey interior revolutionizes the idea of Tuscan country house, with the beamed ceiling providing a rustic touch over the contemporary furnishings. There's a large living room with 3D TV and a kitchen that overlooks the patio (the hotel's Dama Dama Restaurant will cater). Each of the three bedrooms have a private bathroom; the master suite features a large hydromassage tub. The cottage is quite private, but not too far from the main building of the resort. A private golf course is provided for quick trips to and fro.
All the Club Suite Deluxe rooms have a panoramic terrace overlooking lush greenery. The patchwork cowhide rug is perfect underfoot. Imagine sipping red wine on that terrace during sunset.
The Home Suite is a luxury apartment featuring a fireplace, vintage furnishings, and a bedroom with a free-standing bathtub. The epitome of refined decadence.
The Spa Loft Suite is dedicated to wellness. It includes a large hydromassage tub and Technogym KINESIS equipment. It won the SIA Guest Award for 'Best 4 and 5 star hotel bedroom' in 2008.
The Penthouse Suite was designed as an attic area. It features a fireplace, its own private wine collection (yowza!), and a free-standing bathtub in the bedroom. Haven't you always wanted to dwell in zebra-rug furnished space? There is also a large terrace with solarium zone and an area for open-air massages.
Travel Club rooms are fitted with a stylish wood room divider between the bedroom and a the bathtub, done in Tabarca stone.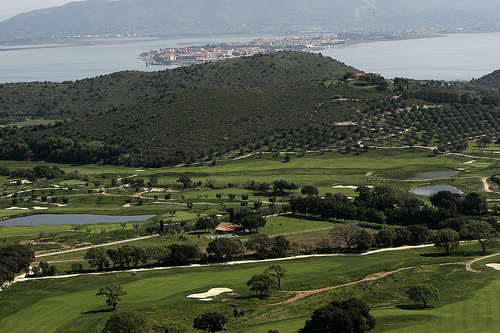 The Argentario Golf Club is a varied, spectacular, and technically challenging 18-hole course with panoramic views. It has been awarded the "Agri Cert" certification for its bio eco-compatibility, and all products used for its maintenance are completely natural.
Bask under the Tuscan sun Located on a large solarium terrace overlooking the golf course, the outdoor pool is immersed in nature.
The water in the indoor pool, which is open year-round, is heated at 82°F. The floor to ceiling windows affords green views all around.
At the Wellness Center, there are six cabins dedicated to beauty-oriented spa treatments, plus a wide choice of massages and treatments. The Argentario Ceremony, an exclusive 50-minute spa treatment performed with local products including Tuscan olive oil and lavender, is not to be missed. Note the disco ball for added sparkle.
At the resort's Dama Dama Restaurant, executive chef Emiliano Lombardelli creatively interprets Mediterranean cuisine with particular care for local products, presenting them in a gourmet manner. Products come directly from local Tuscan farms and from the resort's own organic vegetable garden.
Are you packed yet?
What: Argentario Resort
Where: Via Acquedotto Leopoldino – 58018 Porto Ercole, Italy
How much? This winter stay in a Superior room for only 195 euro per night, including buffet breakfast, access to the Espace Wellness Center, indoor pool, gym, fitness courses, humid zone, tennis and soccer courts, golf driving range. Enjoy a 10 percent discount on the Dama Dama Restaurant's à la carte menu, 20 percent discount on spa treatments, and 50 percent discount on 18-hole green fees.
Highlights: Spa, pools, and amazing in room bathtubs, all within easy access of Tuscan sights.
Design draw: Contemporary comforts in the Italian countryside.
Book it: Email: [email protected]
Go virtually on vacation with more design destinations right here.