It may look like the most traditional of villas on the outside, but inside the Byblos Art Hotel, located near Verona, Italy, is a glorious blend of Old World meets hot-right-now, for an over-the-top effect of modern madness. Furnishings with Baroque and Napoleonic silhouettes are executed in acid hues, mid-century masterpieces are nestled in front of ornate moldings and wall panels, and formal grounds are dotted with vibrant sculpture. Speaking of art, it's practically the hotel's raison d'etre. The hotel is quite actually a museum, with works by major mid-century modern including Jim Dine, Robert Indiana, and Tom Wessleman, as well as today's contemporary art stars Damien Hirst, Anish Kapoor, and Cindy Sherman. Italian grandeur and amazing art makes for a must-travel-to Destination Design.
The building's name is Villa Amista. The central part of the villa was built by 15th century architect Michele Sanmicheli, from the ruins of a Roman "casa forte." The current building, which dates back to the 18th century, is the work of architect Ignazio Pellegrini. The inventive interiors, which blend aspects of both periods, and are amped up with contemporary furnishings, were conceived  by designer Allessandro Mendini.
The yellow executive junior suite is furnished with Byblos Home furniture and artwork by either Beatriz Millar or Begonia Montalban.
Mendini's Cult suite is said to be like entering inside the designer's imagination.
The deluxe room is  is also furnished with Byblos Home furniture and artwork by either Beatriz Millar or Begonia Montalban
Mendini's Optical suite is housed in a small tower opposite the villa and is adorned with six mirrors created by different designers.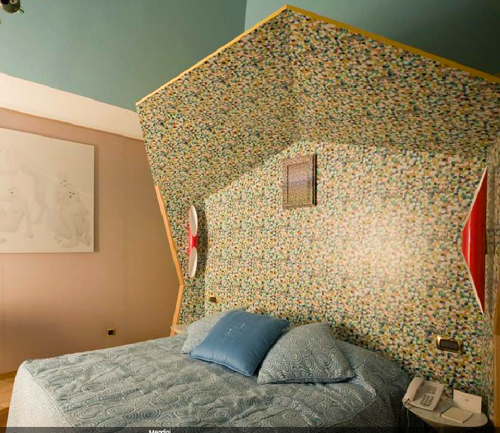 Mendini's Island junior suite contains furniture by Mendini, Ron Arad, and Philippe Starck.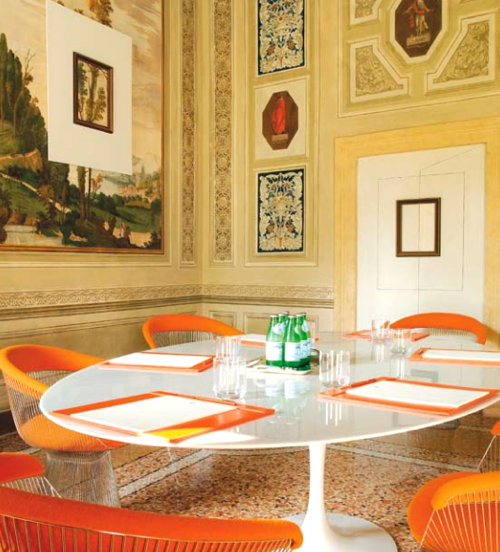 Paolini meeting room, with Saarinen table and Platner chairs.
Peter's Bar (Peter Halley, perhaps?).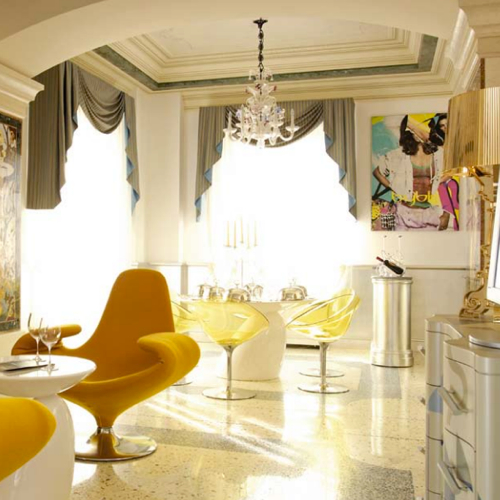 The Presidential suite apartment is decked out with Byblos Home furniture and accessories.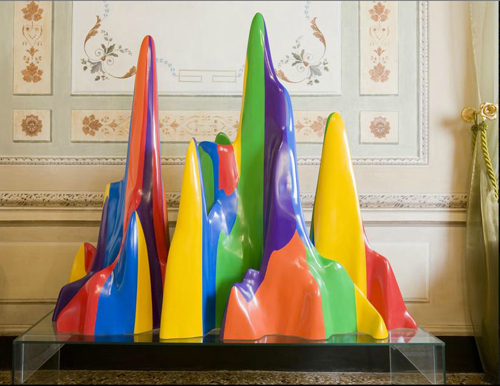 Sol Le Witt
Marc Quinn
The elegant outdoor pool has a very European feel.
Tiled spa pool
Damien Hirst
Beatriz Millar
Are you packed yet?
What: Byblos Art Hotel Villa Amista
Where: Via Cedrare, 78, 37029 Corrubbio di Negarine, Franzione S. Pietro in Cariano (Verona), Italy.
How much: Fall package for a two-night stay in a double Art & Design Superior room from mid-October to mid-November is € 618.
Highlights: Old World villa boasts a Presidential Suite fit for a king, lush grounds with an elegant pool made for lounging.
Design draw: A stellar collection of contemporary art is spread throughout, in the public areas, guest rooms, and grounds.
Book it: Call +39 045 6855555 or email [email protected]