While some of us are thrilled for the mild winter, others lament the lack of snow. For the latter, might we suggest a trip to Igloo Village Kakslauttanen in the Arctic Circle in Finland. In wintertime, accommodations include snow igloos and glass igloos – yes, igloos! There's also a restaurant and a chapel for fairytale winter wonderland weddings. The glass igloos are built from a special thermal glass so the temperature inside the igloo is plenty toasty. If you prefer a more rustic approach, you can sleep in a snow igloo in which the temp hovers between -3°C and -6°C. Don't worry, they provide a down sleeping bag rated to -32°C, woolen socks, and a hood.
An aerial view over Igloo Village.
There are 20 glass igloos in total.
Every igloo is equipped with a toilet and beds. In the evening, there are hot saunas and a refreshing ice hole nearby.
The thermal glass prevents the glass from not getting frosted, hence keeping the view clear even when the temperature outside drops to under -30°C.
The snow igloos
Entrance to a snow igloo. Looks like you're entering a meat locker. Probably feels about as cold too.
These guys braved a snow igloo.
The Glass Kota is a heated building in the shape of a traditional Lapp teepee, eight meters high by eight meters wide. It offers an unobscured view of the Lapp night sky and the northern lights. Those getting married in the snow chapel often use it for a cocktail party before or after the wedding. It also has its own altar suitable for wedding ceremonies.
Entrance to the Ice Chapel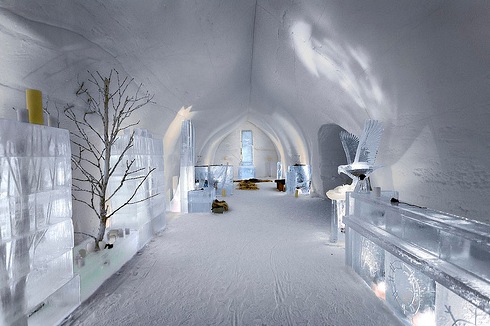 The Ice Chapel
Aurora borealis, or the Northern Lights, a natural light display in the night sky that occurs in Arctic regions between the end of August and April.
Are you packed yet?
What: Igloo Village Kakslauttanen
Where: Kakslauttanen, Saariselkä, Finland.
How much: 169 € per person double occupancy for snow igloo and 171 € per person double occupancy for glass igloo; includes breakfast and sauna.
Highlights: Romantic glass igloos (complete with zebra print bedding) or the real thing. Yes, igloos made of snow.
Design draw: Where else could you snuggle up in a toasty igloo made of glass, gazing at the Northern Lights?
Book it: [email protected]
Take a virtual vacation with more design destinations here.