A mild winter it may be, but that doesn't stop us from craving sunshine. For this month's Destination Design we "travel" to Six Senses Con Dao, an ocean-front resort and spa in south east Vietnam. It's the first five star resort in the area's archipelago of 16 islands, and more than 80 percent of its land is national park. There are 35 suites and 14 villas with private infinity pools, nestled within a mile-long curve of the bay and sheltered by forested mountains. The getaway was designed by Parisian firm AW2 and won an award for incorporating eco-conscious elements into the siting and structure.
The architects took care locating the villas, so as to minimally disrupt the natural environment. The villas are prefab timber structures, which helped cut down on materials that needed to be transported to this remote locale. Old, recycled doors were used, as a link to the country's heritage and craftsmanship, as well as for it's "green" value.
The heart of the resort resembles a traditional Vietnamese fishing village and market place. AW2 used a lot of reclaimed teak, including over a thousand antique wooden panels. A wooden bridge leads across a stream to the dunes, where the villas and spa are located by the beach. Pure paradise.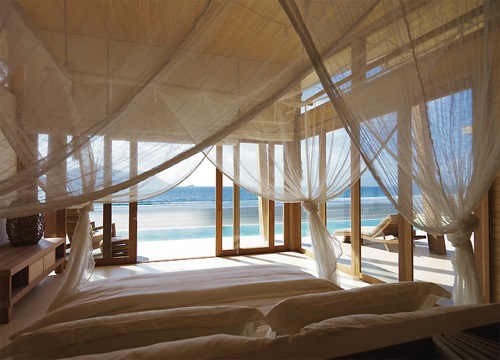 Are you packed yet?
What: Six Senses Con Dao
Where: Dat Doc Beach, Ba Ria – Vung Tau Province, Vietnam
How much: Starting at $690 per night for an Ocean View Deluxe Villa. Rate includes breakfast.
Highlights: Private villas with infinity pools sit on a mile of sandy beach overlooking the ocean, against a backdrop of lush forested mountains.
Design draw: Timber frame villas feel indigenous with airy (literally) interiors lined in teak. Four poster beds hung with mosquito netting complete the look of upscale tropical paradise.
Book it: Six Senses Resorts & Spas reservations or email [email protected]
Photographs by Cat Vinton.
Take a virtual vacation with more design destinations here.

Design From Around The Web