Destination Design: The Radical Concrete Confines of Casa TO, Puerto Escondido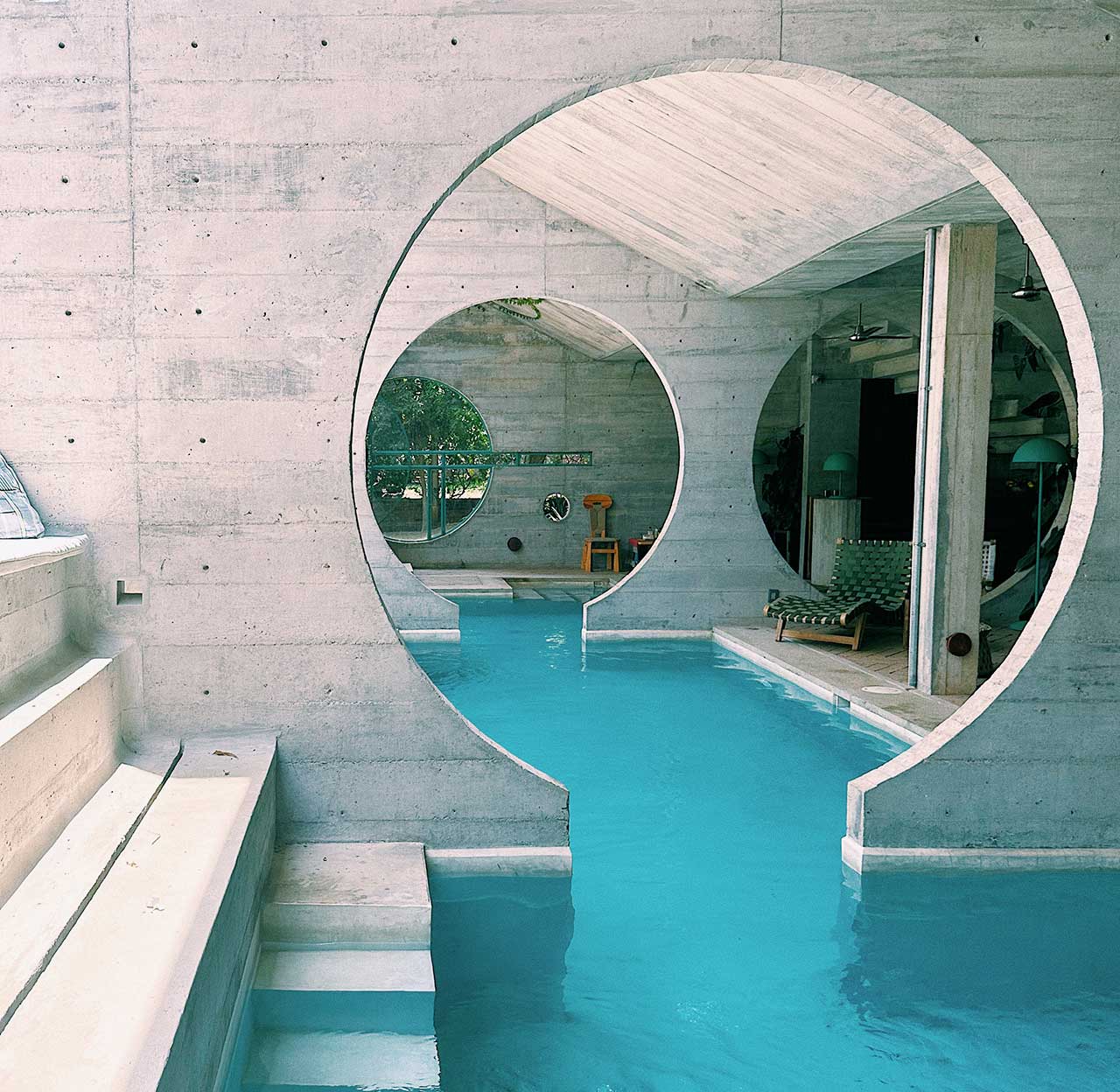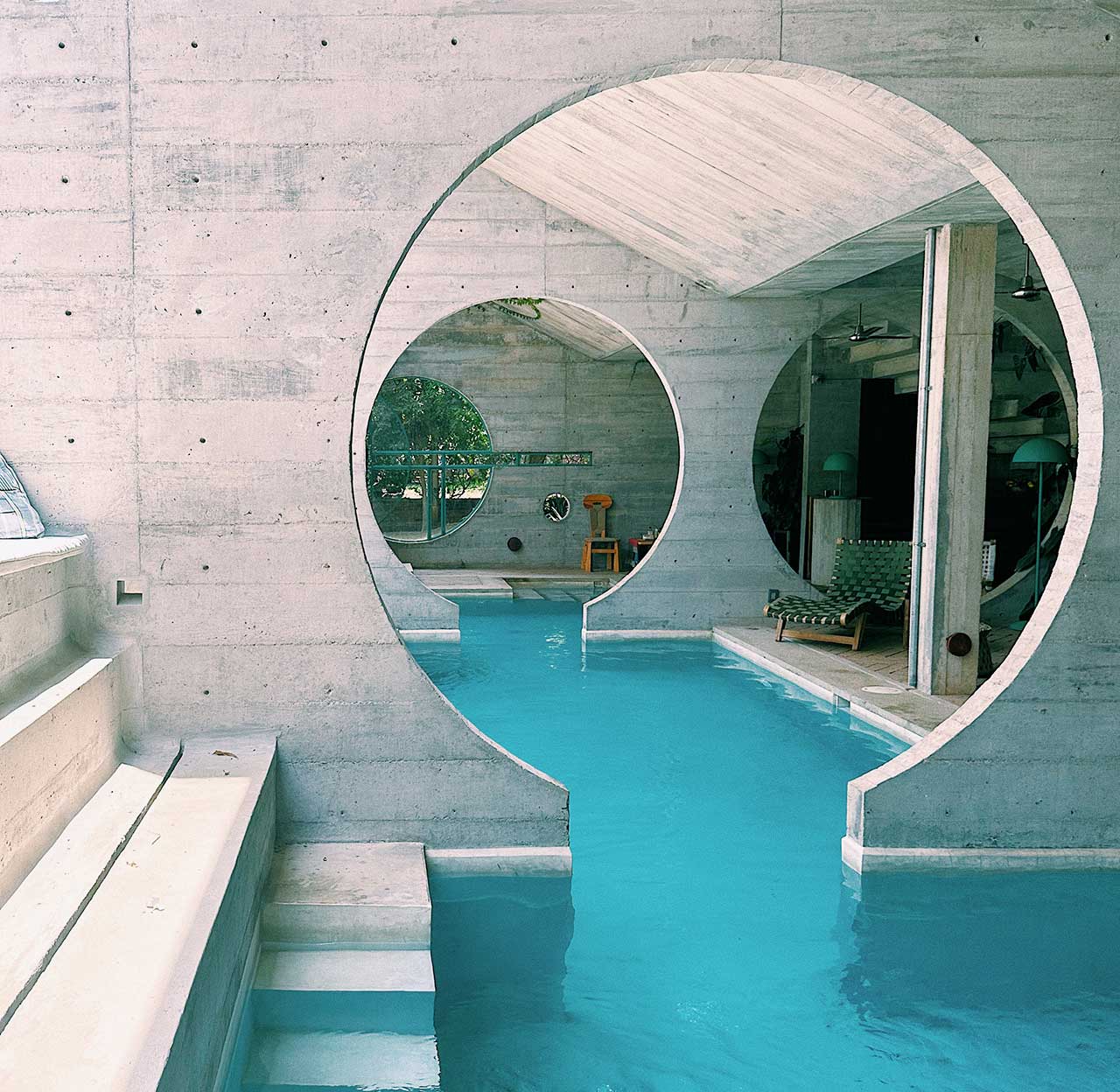 Destination Design: The Radical Concrete Confines of Casa TO, Puerto Escondido
1/14 Photos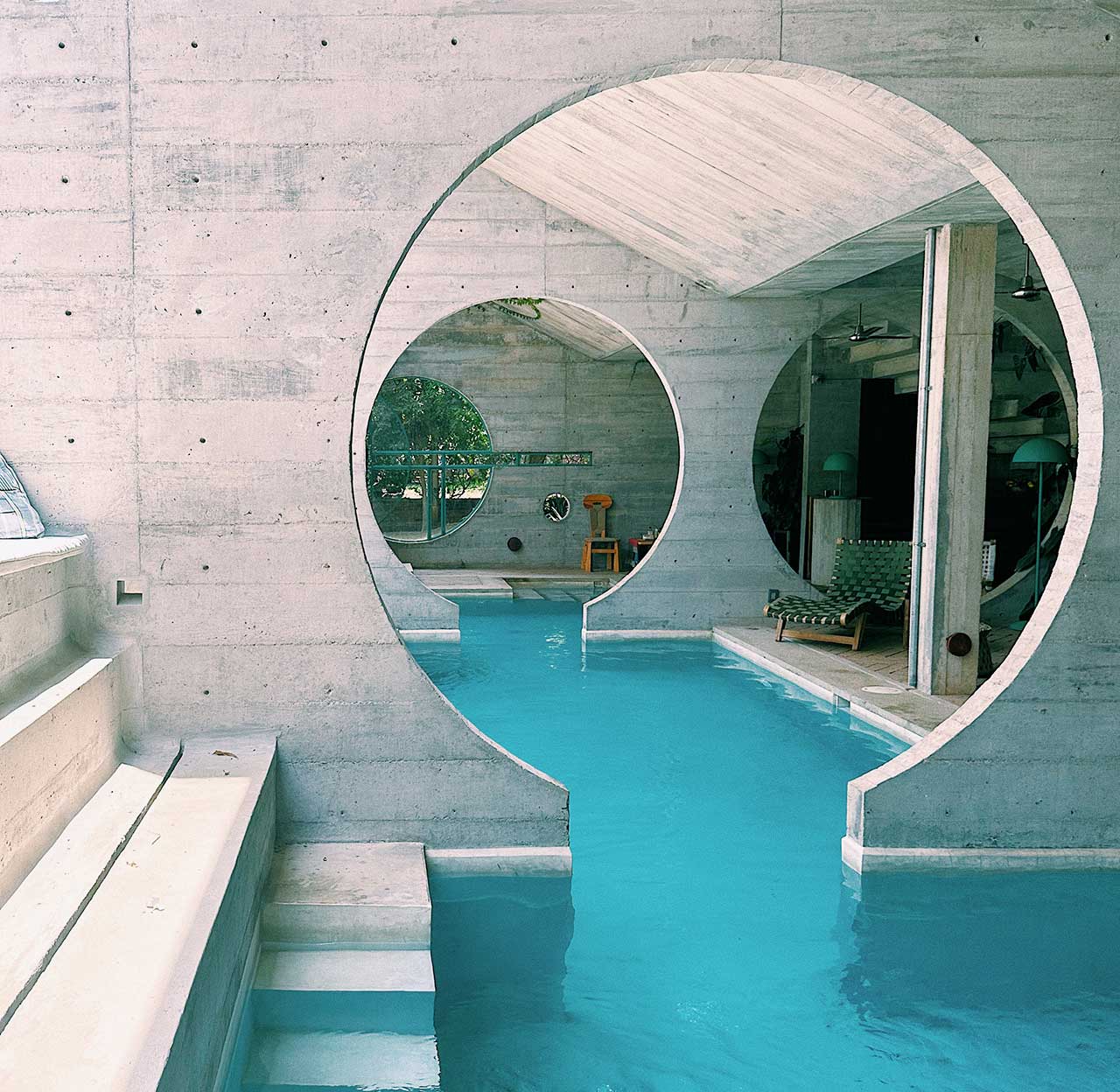 2/14 Photos
3/14 Photos
4/14 Photos
5/14 Photos
6/14 Photos
7/14 Photos
8/14 Photos
9/14 Photos
10/14 Photos
11/14 Photos
12/14 Photos
13/14 Photos
14/14 Photos
Close-up, it's easy to overlook the architectural oasis fashioned from concrete, wood, and steel awaiting behind Casa TO's half-door threshold. The hotel's concrete clad exterior is draped in boa scarves of vines, with palms reaching upward and outward, barely contained by the various unions of rectilinear and curving brutalist planes that become evident with just a few steps back. Even so, the vigorous local vegetation cannot fully camouflage the hotel's promise of architecture imagined to incite "a radical sensory experience upon entering."
Designed by architect Ludwig Godefroy and sited in an inland corner of La Punta Zicatela, Puerto Escondido, the nine suite hotel offers an intimate respite from the festive Oaxacan surf scene weaving across the beachside streets. We found ourselves thankful of the contemplative refuge offered to us for a few morning hours during the recent 2023 Mexico Design Fair, indebted to its shaded cool cavern, enthralled by the contemporary reticulated interpretation of place and space designed to compel guests to do nothing but swim, rest, and occasionally sip something refreshing.
Godefroy's inside-out approach invites light and shadow, sky and water, mass and emptiness all into an evocative interplay staged across the hotel's varying heights. The cavernous central enclosure is most dramatically framed by a series of large circular concrete hole punches, allowing guests and the coastal breeze access across its length of water and herringbone brickwork floor – a span interspersed with low profile furniture built by carpenters from Oaxaca, Puebla, and Guadalajara. The height of furniture is easy to slump into, much more difficult to arise from (mentally, more so than physically, such is their comfort).
The hotel's concrete mass is interjected by a sundry of windows, doorways, and other openings partially covered by the coastal region's aggressive verdant vegetation, inviting passersby and the coastal breeze equal chance to make their way into the inner volume of Casa TO's Oaxacan temple where the hotel's spirit of serene contemplation comes into focus.
The guest rooms continue the architectural narrative of contrasts, similarly cool and cavernous, inviting the elements at the cusp of its concrete walls. Garden Suites are furnished with king size beds with a small private garden, while the upper floor Terrace Suites are slightly larger and come with their very own outdoor tub with fresh water to easily slip into each morning or night from a king size bed.
What: Casa TO
Where: Brisas de Zicatela, 70934 Puerto Escondido, Oaxaca, Mexico
How much: From $274
Highlights: The covered solarium lobby running parallel alongside a long infinity pool framed by six enormous circular openings inspires travel photography. Don't skip out on brunch upstairs.
Design draw: Designed by Mexico City-based architect Ludwig Godefroy, the hotel's circular opening poolside and lobby are complemented with furniture built by carpenters from Oaxaca, Puebla, and Guadalajara. Japanese architect Tadao Ando's Casa Wabi, Casa Naila by BAAQ, and Meridiano gallery by architect Tatsuro Miki and Axel Vervoordt are all located within Puerto Escondido's driving distance perimeter.
Book it: Casa TO
Go virtually on vacation with more design destinations right here.