Remember when you were little and you wanted to live in your treehouse? Want that feeling of weightlessness and seclusion again, this time as an adult?
Take a Swedish adventure into the wilderness with this month's Destination Design — the curious and odd vacation destination called Treehotel. Located in the small town of Harads, Sweden, Treehotel takes advantage of the natural surroundings and dense forests using them to serve as privacy for their sweet little getaway cabins nestles in the trees. Each small themed treehouse guestroom is suspended above the ground. Treehotel just opened this past July.
The inspiration for the hotel came from a documentary called Trädälskaren (The Tree Lover) by Jonas Selberg Augustsen, which tells the story of three city-dwelling men who decide to build a tree house together to explore their roots. Each architect-designed room is completely different only having in common the fact that it is suspended in the trees.
The Mirrorcube by Tham & Videgård Architects (Bolle Tham & Martin Videgård) is a lightweight aluminum cube covered in mirrored glass — you can see out 360 degrees. It has one double bed and you get there via a rope bridge.
The Bird's Nest by Inredningsgruppen (Bertil Harström) was created to resemble a bird's nest in which you are the eggs nesting inside! It has four beds (one double bed and two single child beds) and lots of privacy because of the branches on the exterior. You can access it from a retractable staircase.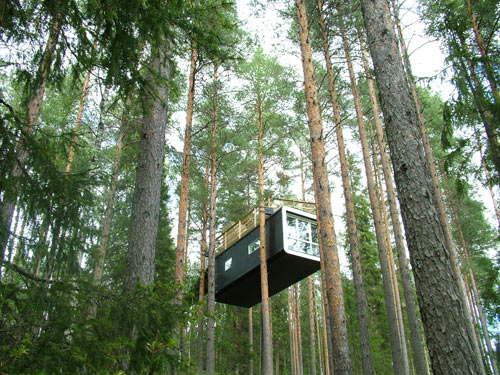 The Cabin by Cyrén & Cyrén (Mårten Cyren & Gustav Cyren) has a double bed and views of the Lule River, It is accessed via a footbridge.
The Blue Cone by SandellSandberg has two levels. On the first is a double bed and in the loft, there are two single beds. To get to the Blue Cone, there's a bridge from the mountain behind it.
A Room With A View by Marge Architects contains one double bed and offers spectacular views on three sides.
The UFO by Inredningsgruppen (Bertil Harström) has four beds (one double bed and two child beds). Who doesn't want to sleep in a hovering UFO?
The Tree Sauna by Inredningsgruppen (Bertil Harström) is a 12-person sauna where you can relax amidst the refreshing scent of pine needles.
Are you packed yet?
What: Treehotel
Where: Edeforsvägen 2, 960 24, Harads, Sweden (map it)
How much: Depends on which room you book, but rates start at 3500 SEK (~$525)
Highlights: Being suspended above ground, taking a tree sauna, complimentary breakfast buffet, local seasonal activities
Design draw: Architect-designed treehouse rooms with different themes
Book it: treehotel.se
Photos courtesy of Treehotel.
Go virtually on vacation with more design destinations right here.

Design From Around The Web