Editor's note: This is the first post in a brand new monthly travel column called Destination Design, where we find some of the best designy, boutique, unusual and exciting places to stay (or eat, see, visit, and play). If there's a great design destination in your city that you think we should spotlight, get in touch.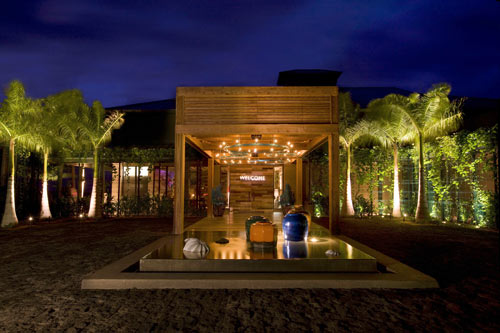 The W Retreat & Spa Vieques Island — the first W Retreat & Spa in North America — opened its doors in March 2010. Located eight miles off the Southeast coast of Puerto Rico on the small, 55-square mile island of Vieques, this 13-acre getaway is surely a not-to-be-missed vacation destination. Two palm tree-lined private beaches are your front porch as you sit by the pool or enjoy an ocean-front massage. But the relaxing and pampering are only part of the draw of this hotel. The other part? Interiors by the hotel's lead designer Patricia Urquiola.
The guestrooms feature a mix of beige and tan elements with pops of vibrant color. Living and sleeping areas are delineated by a thin, taupe curtain (above).
Also featured in the decor is round seating by Moroso, colorful hanging chairs on the balconies, and even a painted steel tub designed exclusively for the hotel by Patricia. The interiors are a perfect harmony of relaxation and excitement.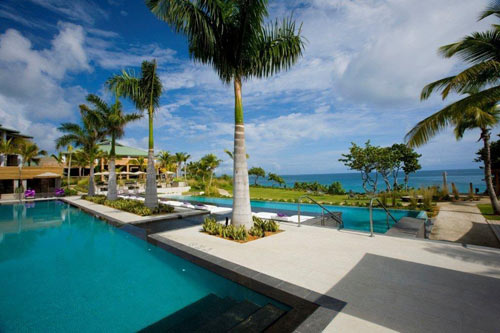 Are you packed yet?
What: W Retreat & Spa Vieques Island
Where: State Road 200, KM 3.2 – HC1 Box 9368, Vieques Island, Puerto Rico 00765 (map it)
How much: $589 (high season) / $379 (low season) per night
Highlights: 157 guestrooms (including eight Fantastic Suites, six Marvelous suites, six WOW Suites and one Extreme WOW suite), iPod Shuffles for your beach run, pets are welcome, a special relaxing airport lounge, W Retreat & Spa's renowned Whatever/Whenever/Wherever Concierge Service
Design draw: Hotel was designed by Patricia Urquiola, along with Madrid-based architecture and design firm Rockwell Group Europe, San Juan-based architect Sierra Cardona Ferrer and Ft. Lauderdale-based landscape firm, EDSA
Book it: wvieques.com
Go virtually on vacation with more design destinations right here.

Design From Around The Web