Never in a million years did I imagine myself wanting to live in a yurt… but that was before peeping the yurt that Zach Both and Nicole Lopez designed and built over the course of six months. You might remember Zach from a few years back when he turned a used cargo van into a mobile studio and then shared details in a step-by-step manual so you could trick out your own van, via The Vanual. Now he's gone bigger and bolder, along with his girlfriend Nicole, to offer the same kind of do-it-yourself guide, aka Do It Yurtself, to help others build their own modern yurt. Before you start buying land and building materials, take a look at the modern yurt they call home that's constructed just 20 minutes outside of Portland, Oregon.
Their yurt spans 30 feet in diameter and offers 730-square feet of living space, which includes all the amenities of "normal" residences. A central volume houses the bathroom inside with a round bedroom loft above that's surrounded by over 45 plants.
The middle structure creates rooms or spaces on each side, with a decent sized kitchen on one of them, a living room, an office, and a hallway with access to the bathroom and ladder to the bedroom, on the others.
Most of the perimeter surfaces are light in color with black beams fanning out overhead to create the roof. Green plants are scattered throughout giving the interior a real home-y feel.
A wood burning stove heats the interior during the colder months.
The bathroom, which is outfitted with a compost toilet, feels spacious and bigger than most bathrooms in larger cities!
A circular skylight brings natural light inside during the day and lets the owners watch the stars at night.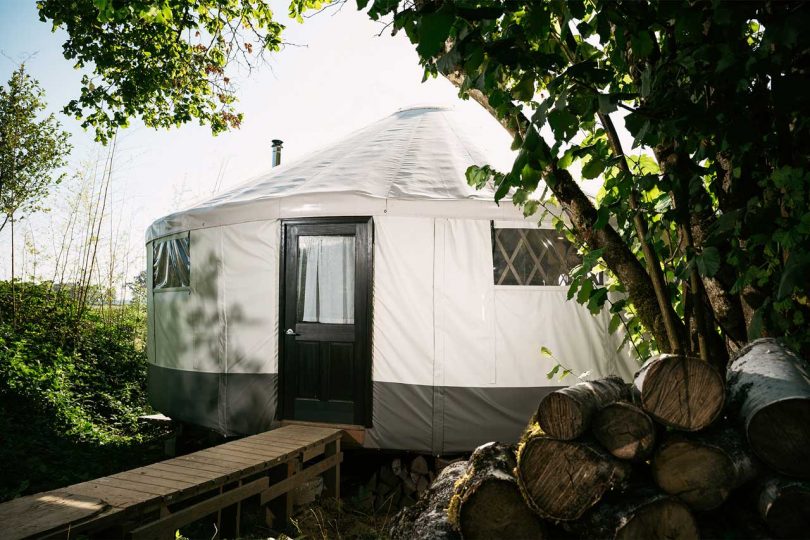 Above photos by Bryan Aulick.
A look at the building of the yurt: