We've seen dog-friendly offices before, but Kurgo might take the cake, er chew toy, so we decided to share the space today because it happens to be Take Your Dog To Work Day. The Salisbury, Massachusetts-based company is dog-friendly for a reason – dogs are their target demographic as they manufacture and sell accessories and travel supplies for dogs. Besides making their employees and their dogs happy since they get to spend the day together, the four-legged set can also act as built-in product testers when needed. Sounds like a win/win for everyone!
The company is co-owned by brothers, Gordie and Kitter Spater, the later of which designed the brightly colored and super fun new office space with builder Daniel Sokol of Leed Containers.
The new offices are located in a warehouse that's been cleverly sectioned off with orange-colored shipping containers. The various containers house everything from a kitchen, conference rooms, and offices. There's also a slide to take you back to the ground floor, a canoe hanging from the ceiling, and a rocking horse from a playground to keep the humans entertained.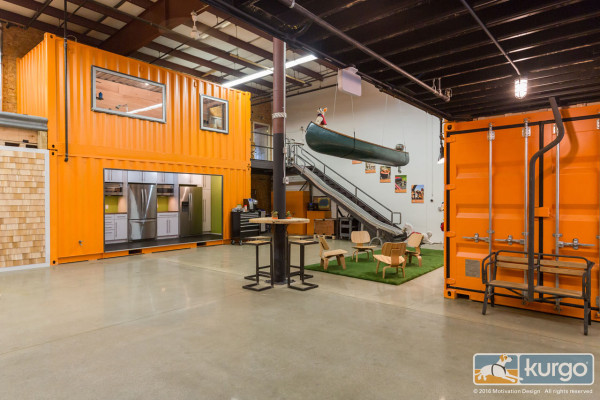 A group of employees work in pen-like cubicles with fake grass that their pups can enjoy.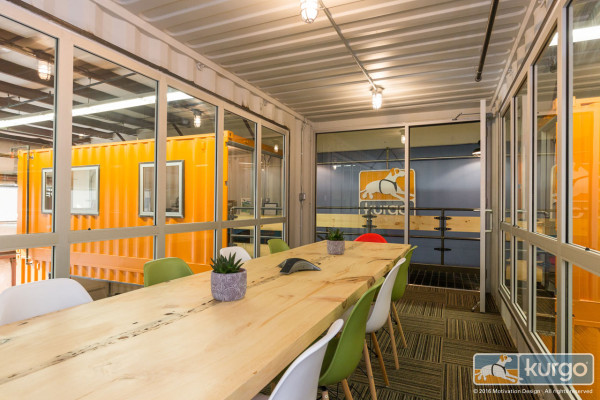 Photos courtesy of Kurgo.
Follow Dog Milk for more dog-friendly homes and offices, plus much more fur-friendly finds.

Design From Around The Web