Architekti Šebo Lichý designed the DOUBLE VIEW HOUSE for a family in Bratislava, Slovakia on a narrow plot of land in a densely populated area of town. The house sits on steep terrain so the design worked around that to provide panoramic views of the city on one side and tranquil views of the garden on the other. The structure was built away from the street which allowed for a garden where they can enjoy the city sights.
Floor-to-ceiling glass windows are placed on both sides of the house giving uninterrupted sight lines straight through.
The garden is elevated making room for a carport underneath at street level while also creating a level space that continues from the front yard to the rear garden.
The focal point on the main floor is the ceiling-mounted fireplace that hangs in the middle of the room.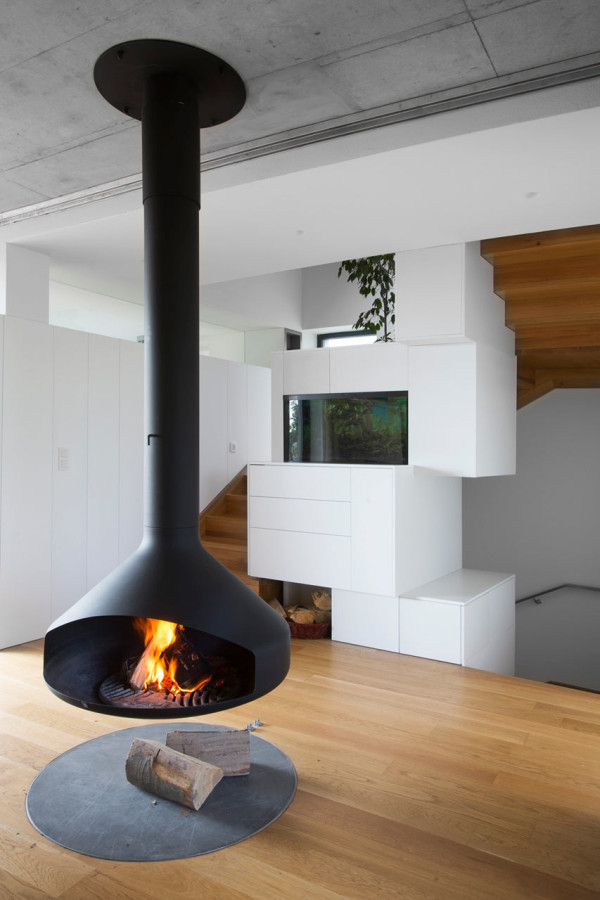 The bedrooms are located on the second floor, which includes two children's rooms with city views and the master bedroom that overlooks the garden.
On the top level, there's a small private office along with access to another rooftop garden.
Photos by Tomáš Manina.