Dual Works Designs a Creative Space for People With Disabilities
Dual Works Designs a Creative Space for People With Disabilities
1/13 Photos
2/13 Photos
3/13 Photos
4/13 Photos
5/13 Photos
6/13 Photos
7/13 Photos
8/13 Photos
9/13 Photos
10/13 Photos
11/13 Photos
12/13 Photos
13/13 Photos
Sense, a disability charity that supports people with complex disability and/or deaf blindness, recently invited Dual Works, a UK-based design studio, to create inclusive art studios at its flagship Sense TouchBase Pears center. While the flagship has been open since 2017 and already includes a gallery, community cafe, and social care services, Dual Works furthered Sense's mission to create welcoming spaces that allow people with disabilities to have enriching social and artful experiences.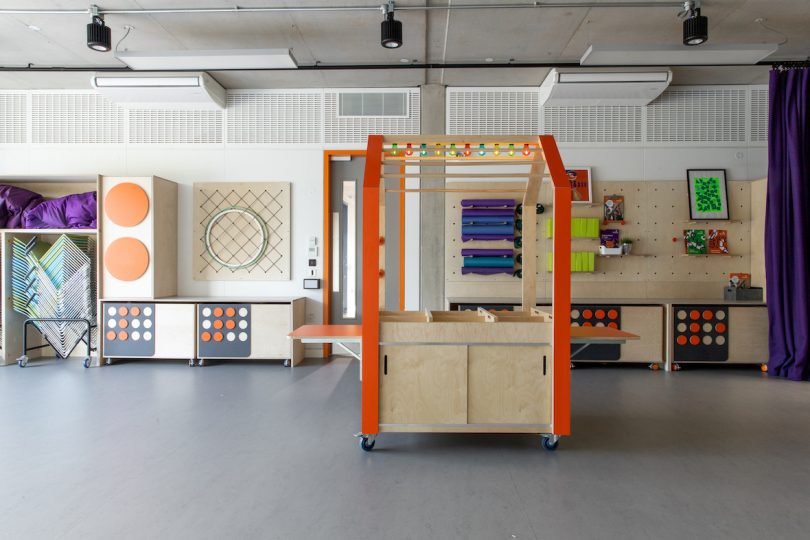 Braille patterns were integrated throughout the space as both playful visual graphics and functional elements. The patterns communicate lettering and numbering systems for organization and categorization for those who read by touch, and the contrasting visuals help aid visually impaired users.
To create a warm, calming atmosphere instead of a clinical or corporate one, Dual Works used birch plywood for furniture and pegboards. The latter allows Sense Arts to adapt the center for its various needs and events. Because art equipment needed to be able to move across locations, workshops and events, flexible solutions were built for storage, including mobile cabinets, flip-up desk spaces, and a purpose-built mobile Art Cart that can be transformed for wheelchair users to access.
Dual Works also built out a music studio which helps people make, feel, and experience sound in new ways through traditional and new music-making methods.
This collaboration between Sense and Dual Works will create a positive, ripple effect of change at this intersection of arts and social care by making sure both are inclusive of everyone, especially those with disabilities.
To learn more about this inclusive creative space, visit sense.org.uk.
Photography by Crumb.