We begin the Dwell on Design Prefab Home Tour with the Backyard Plug-in, a 750 square foot addition that was added to a 1940s house in Santa Monica. Designed by Taalman Koch Architecture, the prefabricated structure is part structural steel frame and insulated wall panels from Blue Sky Building Systems and part itHouse glazing system.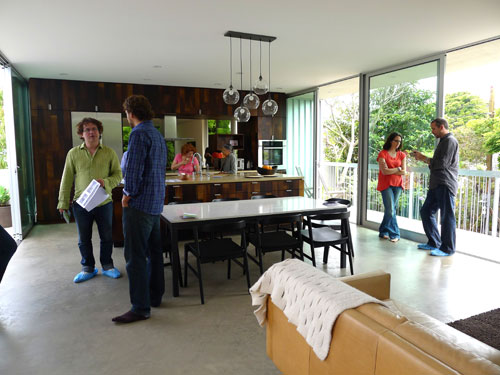 (I always chuckle when I see all the people wearing blue footies!)
The new module just plugged into the existing house with very few alterations needed. The new space became an open and light-filled living room and kitchen and the existing space become the more private areas the family desired.
I wonder what these two are talking about?
I love this wall of shelves! And this wall of photos!
Photos by Julie Karatzis.
We're not attending Dwell on Design this year, but DoD was generous enough to photograph the homes on the tour exclusively for Design Milk. Make sure to check out all of the 2012 Dwell on Design house tours here.