Tom Dixon was born in 1959 in Sfax, Tunisia and moved to England when he was four years old. Having been educated in London, and completed a six-month stint at Chelsea Art School, a career in music followed before a motorcycle accident provided him with the time and welding skills that would lead to his design career — a career that has produced some extraordinary designs we've come to know and love.
Fast-forward a couple of decades, via Habitat, Artek, his own shop, Space, and an OBE for services to design; Tom Dixon the company was born, and the rest, as they say, is history.

Chop Rectangle, Chop Long and Chop Paddle, each milled from solid oak with a soft curved edge
Tom Dixon was showing for the first time at Maison et Objet this year to launch Eclectic by Tom Dixon, a collection that's described as "Things that are to play with or give or use everyday, things that are designed and are undesigned, things that are… eclectic."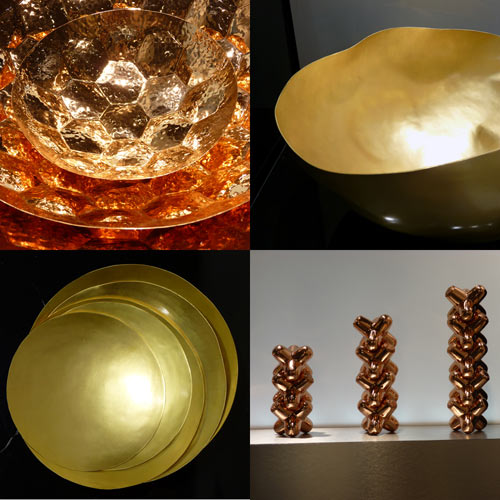 Clockwise from top left: Hex Bowls, Bash Vessels, Form Bowl Set, Cast Mini Jack
Cast Factory, a money box for industrious savers, modeled on a British factory from the Industrial Revolution era, and Cast Shoe, a classic English gentleman's brogue cast in solid aluminium with a copper plated finish.
The range came about to find a place for the smaller ideas inspired by Tom Dixon's ongoing search for materials, manufacturing techniques and innovations to use within lighting and furniture. It will be on sale from the summer of 2012.

Clockwise from top left: Orientalist Scent, Glass Candle Holder (Aqua – also available in Milk and Teal), Glass Vessel Set (inspired by ink wells), Stone Pestle & Mortar (carved from a solid piece of Morward marble)
Our trip to Paris for Maison & Objet 2012 was supported in part by Airbnb.com.