For February, Destination Design travels to the City of Light, Paris, to get a peek at the Hotel Crayon Paris. With the help of artist Julie Gauthron, the property explores color blocking and the playful interior is full of vintage finds that were discovered throughout France. The mix of colorful decor brings Gauthron's vision of "bohemian chic" to light, making it an environment you'll want to kick back and relax in.
The dreamy location, right in the heart of Paris' 1st district, is just four blocks from the Louvre Museum and countless cafés and patisseries.
The eclectic blend of furnishings combines vintage pieces, like this sofa, with a collection of Tom Dixon Beat Lights in the various shapes.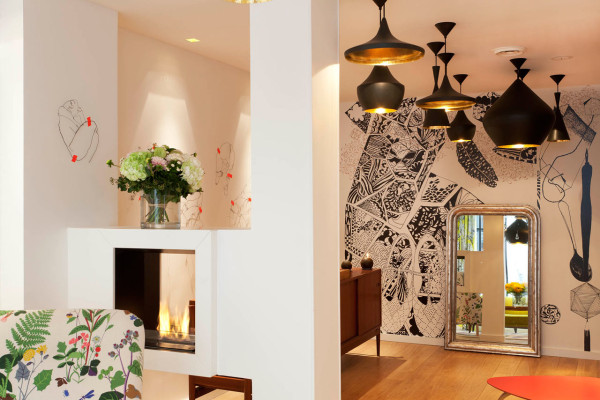 The quirkiness continues with the walls and the child-like illustrations that are seen throughout.
The Junior Suite is perhaps the quirkiest and most artistic of all the 27 rooms. Different wallpaper patterns were used in fairly monochromatic colors, leaving room for people, especially Gauthron's daughter, to color in. Hence the name of the hotel.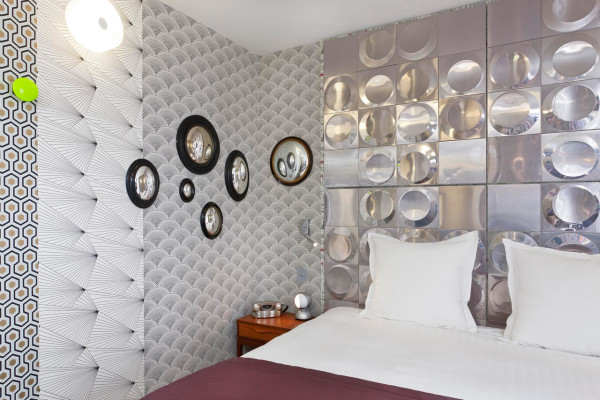 Brightly colored curtains cover the windows, popping against the mostly black and white walls.
The suite's bathroom has pixelated mosaic tile in the shower and a laser-cut purple door separating the space from the bedroom.
The bathroom also has a claw foot tub you can soak in after exploring the city.
Other rooms come outfitted in saturated colors, like purples, reds, blues, yellows, and greens.
What: Hotel Crayon Paris
Where: 25 Rue du Bouloi, Paris, France
How much? From $245 (EUR179) a night and up
Highlights: Every room has a different saturated hue as a theme, plus location, location, and location
Design draw: A vibrant and colorful hotel in the center of the City of Light, featuring an eclectic mix of vintage and modern finds that make you feel like you're staying in a Parisian artist's house.
Book it: [email protected]
Photos by Jacques Lebar.