The Electrolux Design Lab began in 2003 as an annual competition for all students of industrial design to develop future household appliance ideas. Celebrating their 10th year, Electrolux Design Lab asked the students to design concepts that reflect more of a sensory experience and that they did.
Narrowed down from 1,200 entries, these ten top-notch designs were chosen as the finalists. Design Milk heads to Milan later this month for the final event in which one lucky design will win a six-month paid internship with Electrolux! Which one would you choose as the winner?
SmartPlate
Designer: Julian Caraulani; School: Coventry University
The SmartPlate measures and transforms the ingredients in your food into sound by connecting wirelessly to your mobile device.
Tastee
Designer: Christopher Holm-Hansen; School: Technical University of Denmark
Tastee acts as a professional chef for you by "tasting" your food to tell you what you need to add to it.
Mo'Sphere
Designer: Yunuén Hernández; School: Centro de Investigaciones de Diseño Industrial- UNAM
Utilizing molecular cooking technology, the Mo'Sphere allows for experimentation in the kitchen just like professional chefs do.
Spummy
Designer: Alexandre de Bastiani; School: Pontifícia Universidade Católica do Paraná
The Spummy produces edible foam with any flavor combination you can think of to add to your dishes at home.
ICE
Designer: Julen Pejenaute; School: Universidad Politecnica de Valencia
This multi-purpose device makes mealtime a whole new experience by throwing in interactive backgrounds that react to the human's movements. It can also give your meal suggestions by looking at the ingredients you planned to cook with.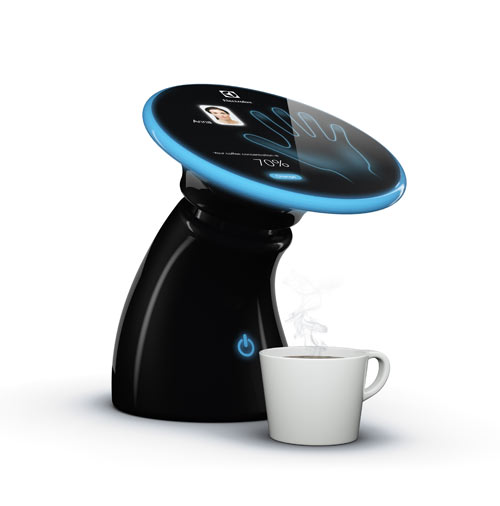 Memory
Designer: WenYao Cai; School: Guangdong Industry Technical College of China
A coffee maker that remembers just how you like your coffee by scanning your hand the next time you want some.
Easystir
Designer: Lisa Frodadottir Låstad ;School: Norwegian University of Science and Technology
Free your hands up with this device that stirs your food perfectly for you.
Impress
Designer: Ben de la Roche; School: Massey University
A refrigerator that stores food out in the open instead of behind closed doors to help you remember what you have.
Aeroball
Designer: Jan Ankiersztajn; School: Uniwersytet Artystyczny w Poznaniu
Small bubbles that float about to clean and filter the air around you. They can even glow at night after soaking up the light all day.
Treat
Designer: Amy Mon-Chu Liu; School: Queensland University of Technology
A food storage system that combines freshness with convenience by warning you when your food is going bad. Communicate with it via your mobile device and tell it to heat your food up. The containers change color when food is expiring and will eventually drop off of the tree when its gone bad. Tree + Eat = Treat.

Treat

Design From Around The Web